Sexist 'Daily Mail' cover wonders which female UK leader "won Legs-it"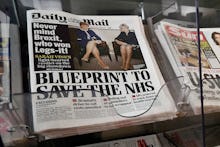 As the British people stare down the uncertain future an impending Brexit will bring, the Daily Mail would like to talk about legs, please.
The British tabloid's Tuesday cover featured a photo of Prime Minister Theresa May and Scottish First Minister Nicola Sturgeon in skirt suits alongside the words: "Never mind Brexit, who won Legs-it!" 
Because no matter the global implications of female world leaders' decisions, there's always time to objectify their bodies.
The accompanying article was no better.
"There is no doubt that both women consider their pins to be the finest weapon in their physical arsenal," Mail columnist Sarah Vine wrote. "Consequently, both have been unsheathed."
She went on to pick apart their clothes and body language, writing that Sturgeon had been making a "direct attempt at seduction" with a high heel that's "not quite dangling off her foot." 
Ah, yes. footwear must have been her foremost concern during this precarious time. What else could she have been thinking about?