"Don't disrespect Marilyn like this": Fans tweet after Kendall Jenner channels Monroe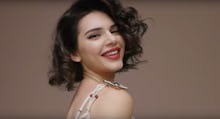 Marilyn Monroe was known for her icy blonde curls, her wide hips and hourglass figure. She was known for her airy voice and biting wit. She was beloved and admired the world over for her sensitivity and strength.
But when Love magazine, a U.K. fashion glossy, decided to enlist a model to channel her for a flirty new video, even lip-syncing some of her most iconic lines, they opted for a model who is neither blonde nor armed with an hourglass figure, a model who's not known for her airy voice or biting wit. 
They went for Kendall Jenner...
... and people are not happy about it. 
When Love tweeted out a clip of the video on Monday, writing "Kendall Jenner gives us her best Marilyn Monroe," fans of the magazine immediately revolted. 
"Don't disrespect Marilyn like this," many tweeted back. 
Others resorted to memes. 
Because, after all, there have been great celebrations of Monroe in recent years, mostly by models who are committed enough to the role to, you know, slap on a blonde wig. 
And it's not like there aren't models out there who'd do a more accurate job of recalling her looks either. 
But instead, they opted for a woman who resembles Monroe perhaps only in their level of exposure and fame. Other than that, not so much. 
Now we're left wondering when fashion directors will finally stop trying to get models to imitate Marilyn Monroe at all, because she was far more than any impression can show. 
You can watch the entire video of Kendall doing her best Monroe impression below: