If Trump wants to save coal country, deregulation isn't the answer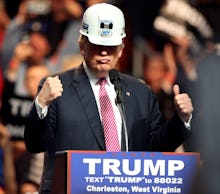 On Tuesday, President Donald Trump signed an executive order officially rolling back some of the Obama administration's most important climate regulations. Trump claimed the order was part of his campaign promise to revive the coal industry and help the struggling Appalachian communities.
"We love our coal miners," Trump said at the signing ceremony. "I made them this promise we will put our miners back to work." 
But if Trump's goal is to help the residents of coal country and create stable and sustainable futures for their communities, then deregulation might not be the way to go. 
At this point, the only thing that can save coal country from the rapid demise of the coal industry is wide-reaching government intervention.
Coal's biggest problem isn't stifling regulations 
Despite the claims of coal state governors and the Trump administration, the biggest problem facing the coal industry isn't regulation. In fact, the biggest threat to future of coal is actually unbridled capitalism in the form of free market competition from other fossil fuel sources. 
Over the last several years, the American natural gas industry has rapidly expanded, leading to cheaper and more abundant natural gas. Throughout that boom, gas-fired power plants have replaced coal as a leading source of American electrical power. 
Trump's plan to roll back regulations isn't going to change that. Even CEO Robert Murray, founder Murray Energy Corporation, the largest coal company in the country, recently cast doubt on the idea Trump could bring coal jobs back in an interview with the Guardian.
"I suggested that he temper his expectations," Murray told the outlet. "Those are my exact words. He can't bring them back."
In fact, Trump's executive action, could end up helping coal's biggest competitor by ordering the Environmental Protection Agency and the Bureau of Land Management to reconsider methane standard regulations that currently affect the natural gas industry.
Coal country needs more than jobs
The decline of the coal industry took more than just jobs from rural Appalachia. Tens of thousands of retired mine workers are on the verge of losing their health care benefits and retirement savings thanks to a funding problems with the United Mine Workers of America Health and Retirement Funds. 
The miners set to lose their benefits have already retired from a life of strenuous labor and won't see any benefit from new coal jobs they can't take. 
In addition, some coal communities are reeling from the environmental impact of coal extraction. In places like Martin County, Kentucky, the local water supply has been significantly contaminated by the coal industry. In February, Trump signed a measure rolling back the Obama era Stream Protection Rule, which sought to limit the amount of water contamination from coal mining.
There are proposals ready for Trump's signature
The good news for Trump is there are a number of proposals already in Congress designed to deal with these problems. 
Sen. Bernie Sanders has recently touted his own bipartisan Miner's Protection Act, which would shore up the pension and health care benefits for thousands of retired miners, as well as the Keep our Pension Promises Act, that would help prevent future pension failures like the one that miners currently face.
And it's not just socialists and progressives who support major government intervention. Republican Rep. Harold Rogers of Kentucky has a proposal known as the RECLAIM Act, that would invest $1 billion in federal funds into economic development grants for communities hit hardest by coal's decline.
Any one of those proposals would probably do more good for the future of coal country than anything in Trump's executive order.