'Designated Survivor' Episode 14 Spoilers: What will happen in "Commander-in-Chief"?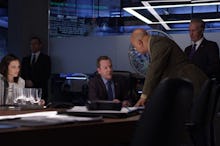 Normally it would be difficult for a political drama to top an episode that ended with the vice president murdered by his own wife, who then shot herself to protect a secret. But ABC's Designated Survivor did just that in episode 13, as the freshman drama continues to keep viewers on the edge of their seat. 
Episode 13 brief recap
In episode 13, titled "Backfire," President Kirkman addresses the nation following the unexpected assassination of Vice President MacLeish. And since Hannah Wells' investigation into MacLeish's ties to the Capitol bombing is still in its adolescence, Kirkman is understandably unwilling to reveal to the press that the vice president may have been a traitor. 
Unfortunately, following Kirkman's address, Seth Wright spends much of episode 13 playing keep away with the media after Speaker Hookstraten leaks to a disgraced journalist that MacLeish, while acting president, ordered that the FBI shoot on sight the man who attempted to kill President Kirkman — a decision that calls into question the former vice president's motivations. This eventually forces Kirkman to confirm the reports toward the episode's end.
Kirkman's chief of staff, Aaron Shore, later admits to the president that he was ultimately behind the leaked report. This causes Kirkman to request that Shore take a week off to collect himself and rest. And while we still do not know whether Shore is a traitor, episode 13 ends with him meeting the prior administration's chief of staff, Charles Langdon, who may have important knowledge regarding the Capitol bombing. 
Episode 14 plot details
In episode 14 of Designated Survivor, titled "Commander-in-Chief," Langdon will be brought in for questioning by the FBI, and it appears we may learn the answers to some of our burning questions, including: Who chose Tom Kirkman as the designated survivor and why? Elsewhere, Emily Rhodes will be taking over for Aaron as Kirkman's chief of staff, but it is unclear for how long.
Of course, while the mysteries surrounding the Capitol bombing are continuing to occupy President Kirkman, he still has a country to run. In "Commander-in-Chief," he will be forced to make some important decisions regarding a conflict abroad. For more on what may happen in episode 14, here is the official synopsis from ABC:
Turmoil in an African country forces President Kirkman to rely on an unlikely ally for help, as Hannah's investigation into the Capitol bombing takes an unexpected turn. Meanwhile, Emily settles into her new role as chief of staff while Aaron has to make a difficult choice.
Need a bit more to hold you over until Designated Survivor's next episode? Check out the promo for "Commander-in-Chief" below:
Designated Survivor airs Wednesday nights at 10 p.m. Eastern on ABC.
Mic has ongoing coverage of Designated Survivor. Please follow our main Designated Survivor hub here.