Nintendo Switch 2.1.0 Update Notes: How to download and changes in the system patch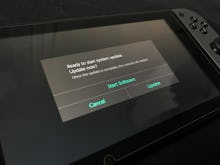 The Nintendo Switch 2.1.0 update is now available to download and install. Like Nintendo's previous consoles, the Wii U and 3DS, the Nintendo Switch can update its firmware right on the device over Wi-Fi. Here's what you can expect and how to download the software if your Switch hasn't done so automatically.
Nintendo Switch version 2.1.0 update: What you're getting in the latest system update 
The list of changes in this newest Switch update isn't a lengthy one. You may be hopeful for a virtual console coming to the Nintendo Switch or cloud saves to back up your game progress on the internet. The 2.1.0 update brings neither of those things. What does it bring? 
According to Nintendo, update 2.1.0 adds "general system stability improvements to enhance the user's experience." That's about it. So don't expect any big changes to your gaming experience.
The previous Switch update, 2.0.0, launched the same day as the console. This brought online gameplay features, including the ability to share screenshots to Facebook and Twitter, the option to add friends and more. The 2.1.0 update is much more lackluster, though it should lead to a more consistent experience when using the Switch. Stability is always important, but let's hope the next update includes something really substantial.
Nintendo Switch version 2.1.0 update: How to manually download and install the new software
In case your Nintendo Switch did not automatically download the update while the system was in sleep mode, you can force a software update manually.
Head to the settings section of your Nintendo Switch. Scroll down to "System" and the first option will be "System Update." Tap it to download and install the new software. If you're already up to date, a prompt will tell you that you don't need to update anything.
Check out more Nintendo Switch news and coverage
Looking for more Nintendo Switch news? Check out how blind gamers are using the Nintendo Switch. Nintendo's left Joy-Con issue turns out to be a hardware problem — find out how to solve it. Find out how to buy a console amidst the recent restock. Learn why the Switch cartridges taste so bad. Check out our comparison photos sizing up the Switch to the Wii U GamePad (part one and part two), or find out how to make use of ethernet without the dock and the best way to get alerts when new stock arrives.