Breastfeeding doesn't make kids smarter, study finds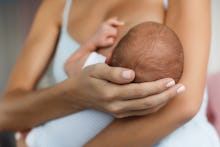 A new study adds a surprising development to the ongoing debate about the benefits of breastfeeding. While breastfeeding has many proven health benefits, it doesn't actually boost cognitive abilities, according to new research.
The study, published in the journal Pediatrics in March, looked at around 8,000 randomly selected families with infants in Ireland to gauge the longterm effects of breastfeeding on children's development. 
The researchers found that, when the children were put through standardized tests at ages three and five, there was no significant difference between the cognitive abilities of the kids who had been breastfed and the kids who hadn't. Those who were breastfed scored a tiny bit higher, but the difference "wasn't big enough to show statistical significance," author Lisa-Christine Girard of University College Dublin told NPR.
"We weren't able to find a direct causal link between breastfeeding and children's cognitive outcomes," Girard said.
Prior studies have suggested that breastfeeding is connected to improved scores on IQ tests, NPR reported. In other words, this new research is just a contribution to an ongoing dialogue about the benefits of breastfeeding, not necessarily a definitive answer.
Some of the proven benefits of breastfeeding include antibodies in breastmilk that support babies' immune systems, according to the Mayo Clinic. Breastmilk is also easier for infants to digest than formula, and it may reduce the risk of allergies and asthma. There are even proven health benefits for parents who breastfeed.
The American Academy of Pediatrics still recommends that infants are exclusively breastfed for their first six months.
While this new study didn't note a significant effect of breastmilk on cognitive abilities, it did find one significant difference between the children who had been breastfed and those who hadn't: Children who had been breastfed for at least six months were notably less hyperactive than their counterparts when they were tested at age three. 
"The effect is small, but it's there," Girard told NPR.
When they were tested again at age five, that effect was no longer statistically significant, suggesting that it doesn't sustain once children enter school.