Report: Only Sweden, Germany and France are pursuing their Paris climate goals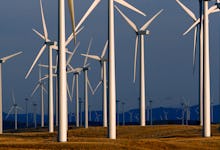 Of the dozens of European countries that signed the Paris climate agreement in 2016, only Sweden, Germany and France are actively pursuing policies aimed at fulfilling their pledges, according to a new study by Carbon Market Watch.
As U.S President Donald Trump reportedly gears up to begin dismantling America's Clean Power Plan through an executive order on Tuesday, news of Europe's lackluster participation in achieving the pledges outlined during the landmark climate conference is one more bit of disheartening news for environmental advocates.
According to the study, which scored countries based on the policies they've enacted in order to achieve Europe's pledge of a 40% cut in carbon emissions by the year 2030, the other countries on the list — including the U.K. — have fallen woefully short of the goals outlined in the Paris Agreement, achieving ratings ranging from "insufficient" to "very poor."
Sweden is the runaway leader in terms of compliance with the Paris Agreement, scoring a 67 out of a possible 100 on the group's scale, and achieving the only "good" ratings on the chart. Germany and France, in second and third place respectively, were the only two countries to achieve a "moderate" rating.
As the Guardian reported, the ranking relies heavily on official documents submitted to the European commission and statements made by officials to determine which countries have done legitimate work on the "effort sharing regulation," the European Commission's proposal to cover 60% of emissions from transportation, buildings, agriculture and waste management.
As it turns out, some countries have sought workarounds in achieving the ambitious regulation threshold, including using forestry credits to meet the EU's climate goal and seeking higher baselines for measuring C02 emissions.
Femke de Jong, the EU policy director for Carbon Market Watch, told the Guardian that EU politicians masquerading as climate leaders should "put their money where their mouth is by closing loopholes in the EU's key climate law and pushing for more ambition."