Alicia Keys issued an epic response after Adam Levine called her out for wearing makeup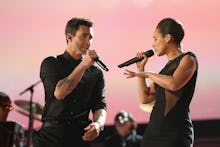 Don't mess with Alicia Keys. That's a lesson Adam Levine apparently learned first hand. 
In an interview with Howard Stern, after being pushed by Stern to talk about Keys' newfound love of not wearing makeup, Levine told a story in which he actually tried to call Keys out for wearing makeup on the set of the The Voice.
Keys has been extremely outspoken about her decision to stop wearing so much makeup. So after Levine saw her putting a tiny bit on at work, he thought it'd be cute to tease her. 
"She was putting on a little bit of makeup," Levine told Stern, "and I was like, 'Oh, I thought Alicia doesn't wear makeup'." 
Alicia's response: "I do what the fuck I want." 
Hear that, ladies? "I do what the fuck I want." 
It just rolls off the tongue: "I do what the fuck I want." It could very well be the next "Nevertheless, she persisted," to be honest with you. 
So let's say it again. 
"I do what the fuck I want." 
Say it louder! 
"I do what the fuck I want!" 
You game to start a petition to carve that into the base of the Statue of Liberty, Alicia? 
Great. 
Thank you, Alicia Keys, for introducing this epic clapback into our lives. We honestly don't know how to thank you.