'Pokémon Go' Update 1.29.1/0.59.1: Bug reports and temporary fixes for the new patch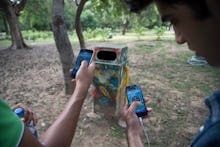 Although Pokémon Go's latest patch (1.29.1 for iOS and 0.59.1 for Android) brought some really exciting content for the game, it's not without its bugs. If you're trying to enjoy the waning days of the Water Festival, catch a shiny Magikarp or just get some free special items from a seven-day PokéStop streak, some of these bugs can be extremely frustrating.
Thankfully, if you're worried about bugs, we've got the most common ones that users are experiencing in the latest Pokémon Go update — plus how to fix them — below.
Pokémon Go update notes: 1.29.1/0.59.1 bugs and how to fix them
According to Pokémon Go Hub, one of the most common bugs players have encountered since the new patch hit is the sightings tab and radar suddenly going blank. This is really annoying because it means you're not able to find out what Pokémon are nearby to try and track them down. If you're encountering this problem, going into your journal tab and then exiting it is usually enough to reset your sightings tab.
The new patch has also seen an uptick in a number of general lag issues, with slow encounter starts and lag when Pokémon show up on the world map, along with a number of slowdowns when entering gyms and PokéStops. Unfortunately, these glitches are coming from Niantic's servers, according to Pokémon Go Hub. So there's not really a whole lot you can do besides bear it for now and hope Niantic remedies the problem soon.
Multiple Android users have also reported that the game crashes when you attempt to scroll through a gym too quickly or when you're checking out someone's custom avatar at a gym. Since it's been reproduced on several different Android devices, chances are good this is a problem with the app, rather than the phones themselves. Unfortunately, there's also not really a quick fix for this one other than taking your time when scrolling through gyms.
Patch 1.29.1/0.59.1 is also having issues with alerting players when their Pokémon Go Plus peripheral needs its battery changed. If you've been failing to connect your peripheral with the app, try changing out your batteries; chances are they've expired and the app just hasn't told you.
The final bug being reported is that Pokémon models aren't populating correctly over gyms and are instead being replaced with a "substitute doll." No one's really sure why this is happening as of yet, but if it's happening in your game you'll probably notice. The easiest way to fix it is to clear either your app's data cache or the local data in order to force the game to re-fetch the correct models.
Although these bugs are no more than a temporary inconvenience, they're still aggravating when you're playing the game. Hopefully it won't be too long before Niantic fixes them, but that's also just the nature of any game with a lot of updates and patches. So don't expect to see a fully bug-free update for Pokémon Go anytime soon.
More Pokémon Go guides, tips and tricks
Once you get Pokémon Go up and running with the latest update, be sure to check out Mic's guides on how to get stardust, how to determine how long it will take you to reach level 40, the kind of Pokémon you get from 10-kilometer eggs, how to create new PokéStops, how to maximize your chances of catching Pokémon and how PokéStops distribute Pokémon eggs. Also check out how to catch Gen 2 baby Pokémon, our analysis of post-balance update Chansey and Rhydon and everything you need to know about finding the long-awaited Pokémon Ditto.