Why the Donald Trump and Russia stories are not going away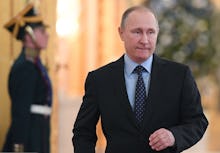 Several narratives continue to swirl around President Donald Trump and Russia, bringing heightened scrutiny to the president's allies — there's always some new thread to explore. Monday's Russia news was a perfect example that the story may occasionally fall to a simmer, but it will never truly go away.
Democrats called on Monday for the House Intelligence Committee chairman to recuse himself from his committee's investigation into Russia. The New York Times reported Rep. Devin Nunes (R-Calif.) met with a source on White House grounds to review intelligence documents. That meeting took place before Nunes' press conference where he said there may have been government surveillance of the president. Democrats, including Rep. Adam Schiff (D-Calif.), Nunes' colleague on the committee, now say the chairman could not conduct a credible investigation into the president while taking meetings at the White House. Nunes claimed he needed a secure facility — something he has access to at the Capitol.
The intelligence committee's work has reached the point of total dysfunction, with CNN reporting Tuesday morning that the committee will not meet this week. The Senate Intelligence Committee may be the final opportunity for an existing body of politicians to turn up substantive results without a special Congressional inquiry into Russia.
A Tuesday morning siren on Russia from the Washington Post: "Trump administration sought to block Sally Yates from testifying to Congress on Russia." Yates was the acting attorney general who Trump fired after she refused to defend the president's first travel ban.
Jeff Sessions faces continued scrutiny weeks after an allegation of perjury. On Monday, 23 people from five states put their names on a complaint, filed with the Justice Department, saying Sessions should be held accountable for what they say are lies to senators about his contacts with Russians before the 2016 election. The department divisions that investigate misconduct by Justice officials did not respond or declined to comment to inquiries on the letter from the Washington Post.
After months of praising Russian President Vladimir Putin, Monday may have been a subtle shift in tone by the White House. Press Secretary Sean Spicer read a State Department statement condemning the Russian government's crackdown on peaceful protesters over the weekend. Thousands of anti-corruption protesters took to the streets across the country. The statement, which called arrests of peaceful protesters "an affront to core democratic values," was the most anti-Russian missive from Trump's White House so far.
And staying in the headlines with her calls for Trump's impeachment, Rep. Maxine Waters (D-Calif.) is tweeting and telling anyone who will listen she is "out to get" the president. Not to be outdone, the president took to Twitter on Monday night to again call the Russia story "a hoax."
This is Mic's daily read on Donald Trump's America. Welcome to the political newsletter that doesn't require a secure location.
Highlights:
•  Today: Russia, Russia, Russia.
•  More: Neil Gorsuch is facing strong Democratic headwinds, but Mitch McConnell can always go nuclear.
•  Even more: Mic explores the Donald Trump campaign promise that could kill tax reform.
•  Yes, more: Trump's approval rating is 36%, the lowest of his young presidency and lower than those of Presidents Barack Obama or Bill Clinton were at any point. 
•  Trump's agenda today: Signing an "energy independence" executive order. Meeting with the secretaries of state and homeland security. Meeting with the Fraternal Order of Police. Holding a reception for senators.
Will Republicans go nuclear for Neil Gorsuch?
It is likely Judge Neil Gorsuch will be confirmed to the Supreme Court; the question is how. With Democratic opposition to Trump's nominee coalescing, Republicans may be unable to secure the 60 votes necessary to advance the judge to a final vote. That leaves one option Senate Majority Leader Mitch McConnell does not want to have to use: The nuclear option. First invoked by Democrats in 2013 to advance Barack Obama's judicial appointments past Republican Senate opposition, the tactic allows the Senate to approve nominees with only 50 votes. While Democrats used the option for lower court appointments, it has never been used for a Supreme Court justice. 
Democrats indicated their willingness to stall on Monday by blocking Gorsuch from advancing out of the Senate Judiciary Committee. As of Monday afternoon, CNN counted 19 Democratic senators saying they were willing to filibuster Gorsuch, including Senate Minority Leader Chuck Schumer. That leaves nearly 30 Democrats uncommitted, giving McConnell a chance at snagging eight votes to prevent having to take the nuclear option.
The judiciary committee will vote on Gorsuch on Monday, and the full Senate will consider Gorsuch in a week.
Tax reform is looking shaky
Trump promised his supporters he would penalize companies that manufacture goods overseas by taxing imports into the U.S. But the Senate's No. 2 Republican told Mic he would not support a tax reform bill that included a border tax, joining a growing number of Republicans who oppose it. Read more from Mic on Trump's difficult position between a campaign promise and a political victory. 
Details on Trump's energy executive order
The president will sign an executive order Tuesday that rolls back Obama's Clean Power Plan. The White House says the move is part of Trump's commitment to eliminating regulations on fossil fuel companies to create more jobs in the coal, oil and natural gas industries. But Trump's order goes further than that. It removes a requirement that government officials consider the impacts of climate change in their decision-making. 
News and insight you cannot miss:
•  1 in every 5 Americans is on Medicaid. (New York Times)
•  Democrats may have failed to poll rural white Americans entirely. (Politico)
•  Sen. Bernie Sanders has a health care proposal that Trump should love. (Mic)
•  Attorney General Sessions hammered sanctuary cities in a Monday press conference. He didn't seem to have his facts straight. (Mic)
•  Democrats edited anti-capitalist, pro-socialist message out of photo in promo image. (Mic)
•  Maybe we aren't done with health care? House Speaker Ryan left the door open on Monday, without offering specifics. (Mic)