Joseph Scott Giaquinto arrested on bias-motivated charges for attacking Colorado mosque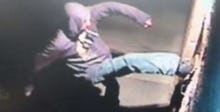 On Monday evening, police announced the arrest of 35-year-old man in relation to the vandalism attack at the Islamic Center of Fort Collins in Fort Collins, Colorado.
Joseph Scott Giaquinto was allegedly caught on surveillance video footage flipping benches, breaking windows with bricks and throwing a Bible into the mosque early Sunday morning.
According to the Council of American Islamic Relations, the vandalism attack at the Islamic Center of Fort Collins is one of 35 anti-mosque incidents since Jan. 1. The incident reportedly took place after anti-Muslim flyers were passed around Colorado State University's campus, which is located adjacent to the mosque.
Giaquinto was arrested on suspicion of several charges: trespassing, criminal mischief and bias-motivated crime, the Coloradoan reported. Criminal mischief is classified as a Class 6 felony, and, if convicted, Giaquinto could serve up to 18 months in prison and pay up to $100,000 in fines.
Prior to his recent arrest, Giaquinto also reportedly pleaded guilty to a misdemeanor theft on Feb. 8. He was given a deferred sentence.
Giaquinto was a combat medic for the U.S. Army for about eight years, the Coloradoan reported. He served the Army in Baghdad, Iraq and Korea and moved to Fort Collins in 2016.
Police Chief John Hutto said that the attack on the Islamic center shook up the community.
"We will not tolerate acts of hatred in our community, and I hope this arrest sends that message loud and clear," Hutto told the Coloradoan. "While the building can be repaired, this incident caused deeper hurt that won't just go away."