Detox slams VH1 for making Wendy Williams 'Drag Race' preshow host, Michelle Visage agrees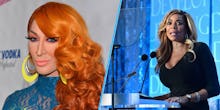 This queen thinks Wendy Williams is dragging down RuPaul's Drag Race. 
In an Instagram post on Monday evening, RuPaul's Drag Race contestant Detox posted a Facebook status from New York City drag performer Stephanie Stone bringing up a 2009 incident in which the Wendy Williams Show allegedly confronted drag performer Erickatoure Aviance for attending the show in a black dress and wig. 
According to the Advocate, producers told Aviance she was not allowed to be on camera and would not be allowed to stand or ask Wendy a question.
"All I remember is when Wendy William has Erickatoure Aviance removed from her studio for being in drag," Stone wrote on Facebook. "Now she's doing the preshow for Drag Race. When are folks going to realize not everyone's your 'friend of the community.'"
"THIS IS IMPORTANT!" Detox wrote in a caption accompanying the status. "This is why I say Wendy Williams should not be hosting the RuPaul's Drag Race viewing party on VH1. She is NOT an ally. She is transphobic. If anything, she is an ENEMY. An enemy profiting off our community. Fuck. That." 
Detox accompanied the post with the hashtags #ImpeachWendyWilliams and #FireWendyWilliams. 
Detox's post garnered over 12,000 likes and 500 comments, but one comment stood out as especially telling. 
Drag Race judge Michelle Visage weighed in on the matter with a simple, "Yup." 
This is not the first time Williams has been accused of casual homophobia. The self-titled "queen of all media" has also taken heat for her saying "no homo" while praising Pamela Anderson. 
In a statement to Mic, drag performer Stephanie Stone expanded upon her original Facebook status. 
"I just think we have to be very aware of our history and who our true allies to the community are," Stone said. "Ericka was clearly mistreated by [Williams] and never received a direct apology." 
Stone added, "I've just never understood the need for days-old gossip and to hear other people's catchphrases, so I don't exactly watch her show." 
In a statement to Unicorn Booty, All-Stars season 2 winner Alaska Thunderfuck also spoke out against Williams' hosting gig. The drag superstar said she was not a fan of William's coverage of Caitlyn Jenner's transition, which she called "transphobic." 
"I certainly don't think she is the right person to be hosting our community's flagship television program," Thunderfuck said. "I think it's good for Drag Race to be moving toward the mainstream. I'm grateful for the move to VH1. I'm glad that one million people watched the first episode of Season 9. Our message is one of love and acceptance and truth and strength and perseverance, and I believe it should reach everyone, near and far."
Williams did not immediately return a request for comment. 
RuPaul's Drag Race premiered on VH1 Friday after previously airing on LGBTQ-themed channel Logo for eight seasons and two All-Stars seasons. 
Mar. 28, 1:55 p.m.: This story has been updated.