'Spider-Man: Homecoming' trailer reveals Captain America will have a cameo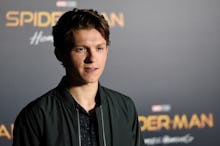 Captain America makes a big appearance in the newest Spider-Man: Homecoming trailer.
We know the two superheroes appeared together in Captain America: Civil War, and that they got along well. And it appears they became such fast friends that Captain America decided to stop by for the upcoming Spider-Man reboot. Although, the way he appears is a bit unexpected.
While little is known about what role he will play in the film, Captain America will be making an appearance. In the trailer, high school students are watching a video in gym class, which appears to be a Captain America fitness challenge. 
With Tony Stark having a big role in the film and Spider-Man looking to join the Avengers full-time, we don't doubt Captain America may stop by. Hopefully his cameo is more than just an exercise routine, but we'll take that too. 
In the newest trailer, we also get a better look at Michael Keaton's terrifying-looking Vulture. Keaton also looks like he's having fun with his return to the comic-book genre. 
Tom Holland plays the newest Peter Parker/Spider-Man, following in the footsteps of Andrew Garfield and Tobey Maguire. Joining Holland, Keaton, Robert Downey Jr. and Chris Evans are Zendaya, Marisa Tomei and Donald Glover. 
Spider-Man: Homecoming is set for release on July 7, 2017. 
Mic has ongoing movies coverage. Please follow our main movies hub here.