What's New in iOS 10.3 Update: 5 iPhone tips and tricks you probably didn't know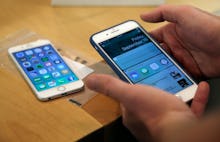 Apple's iOS 10.3 has arrived. Here's what's new. 
The company started rolling out the latest version of the operating system to the public on Monday on the iPhone and iPad. The new iOS, which has had seven beta releases for developers and beta users, comes equipped with security patches and subtle new features that enhances the user experience. Here are five new things your updated iOS can do.
iOS 10.3 can find your lost AirPods.
One of the biggest concerns surrounding AirPods is that they're so small they can be easily misplaced. Apple's solution: a feature within the "Find My iPhone" app that lets you locate your wireless earbuds. Users can either opt to have music play from one or both of the earbuds, or get a location status of where the AirPods were last connected over Bluetooth to your device.
iOS 10.3 comes with a new filing system.
With the new iOS comes the Apple File System — a replacement for the existing HFS+ filing system — that was first debuted at WWDC 2016. Apple calls AFS "the next generation in storage." What does it do? It reportedly increases available storage space by a bit and offers better encryption. You don't have to manually do anything once you download the latest iOS, as the new filing system is incorporated automatically.
iOS 10.3 will give you a weather report within Maps.
If you have an iPhone 6s or newer device, then you can utilize a cool new feature via your device's 3D Touch support. Within the Maps app, users can push the weather icon and trigger a pop-up that provides a seven-day forecast without having to open the weather app separately.
iOS 10.3 will tell you which apps are slowing down your device.
This one's crucial. Is your iPhone running slowly? Go to "Settings," "General," "About" and then "Applications." Here, Apple will list the apps that could slow down your device and may be incompatible with the operating system if they don't get updated.
iOS 10.3 lets Verizon users make and receive calls over iCloud.
Verizon users can finally get in on the fun with the new update, as it allows users to make and receive calls via the Wi-Fi Calling feature through iCloud. Now, instead of exclusively routing your calls through your iPhone, users can make Wi-Fi calls through an array of iCloud connected devices: iMac, Mac Mini, MacBook, iPad, iPod Touch and Apple Watch. To activate Wi-Fi calling, go to "Settings," "Phone" and "Wi-Fi Calling." Then, to curate which devices can route calls, go to "Settings," "Phone" and "Calls on Other Devices," and turn the toggle on.