The man Emma Sulkowicz accused of rape is still trying to sue for gender discrimination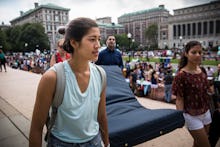 Paul Nungesser, the man Emma Sulkowicz accused of sexual assault, is still hell-bent on receiving compensation for what he believes to be the gender discrimination he faced while he was a student at Columbia University.
But it's not going so well.
According to DNAinfo, a judge has dismissed Nungesser's second attempt at suing the university for supposedly violating its Title IX policy by allowing Sulkowicz to perform her "Carry That Weight" mattress art project on campus. Sulkowicz had pledged to carry her dorm mattress around campus every day until Nungesser was expelled, which amounted to her carrying it across her graduation stage in 2015.
Nungesser, however, claimed that Sulkowicz had allowed reporters to stalk and defame him, calling him a "serial rapist" — a term Nungesser's lawyer referred to as a gendered slur. The suit goes on to identify Nungesser as a "male victim of gender-based harassment."
Judge Gregory Woods has thrown out Nungesser's latest suit "with prejudice," which DNAinfo reports means he won't be able to file another. 
In his decision, Woods wrote that while Nungesser's lawyers made it clear his senior year at Columbia was "neither pleasant nor easy," they have no proof Nungesser suffered from gender-based harassment. 
But despite having his suit struck down twice in just as many years, Nungesser is determined to keep arguing his case.
"We have carefully reviewed Judge Woods' decision, and believe it to be erroneous in a number of critical areas," Nungesser's attorney Andrew Miltenberg said in a statement, adding that he believed Woods had been "dead set" against his client.
"We are confident that the U.S. Court of Appeals for the Second Circuit will reinstate the case."