Women were the original beer brewers — meet 5 who are reclaiming the craft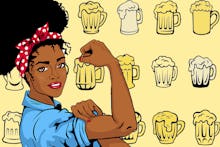 It's a sexist misconception that beer is just for men. A viral 2015 video from beer-lover blog "Let's Grab a Beer" reveals that more often than not, waiters and bartenders make assumptions about customer drinking choices based on gender. The video shows that when heterosexual couples order drinks, the waiter often gives the beer to the man even when the woman ordered it. 
It shouldn't seem strange for a women to order a beer. In fact, women were brewing beer way before it was cool among bearded, flannel-wearing hipsters. In ancient Egypt, women brewed beer and in colonial America, it was women who first began brewing beer using corn, pumpkins and other local foods, the Atlantic reported. 
Men started to co-opt beer after the Black Plague hit Britain. The disease wiped out some of the population, wages increased and people had more income to spend on beer, Vice reported. Men established ale houses to sell beer, realizing they could make a lot of money by commercializing the hoppy hobby. 
Still, women haven't abandoned the drink they pioneered. From a popular Instagrammer to a brewer for a major brewery to an influential beer writer, here are just a few examples of how women are shaping beer culture as you know it. 
Emily Kosmal, brewer, Goose Island
A background in food science led professional brewer Emily Kosmal to beer. The "controlled but still chaotic" intricate brewing process attracted her to the industry, Kosmal said in an interview, noting it took her a few months to get up to speed on the scientific process and labor involved in creating the popular booze. 
"There's always been women — and really strong-willed women — that have inspired me to keep doing what I'm doing." — Emily Kosmal, Goose Island brewer
Two years after joining Goose Island, Kosmal created the widely celebrated 2016 Goose Island Bourbon County Stout Proprietor's variant, stout aged in bourbon barrels that used to store maple syrup. "I kind of wanted it to remind me of a good cigar on a cold, miserable Chicago winter day," she said, explaining that the brew has a hint of char and smokiness. 
"As a female scientist, you're always kind of the minority," she noted. "[Goose Island has] three female brewers, which is pretty great. There's definitely more male brewers. There's always been women — and really strong-willed women — that have inspired me to keep doing what I'm doing."
She explained that customers are much more enthusiastic when discussing beer compared to food products she used to work on, like chocolate milk, cookies and tortillas. (Can you blame them?) 
"I want young girls to know, you can do science," Kosmal said. "Physical jobs are cool. I've always thought they were cool ever since I was a kid."
Mandy Naglich, homebrewer and writer 
"My very first beer was a Magic Hat No. 9 at an age I am unwilling to fully disclose," Mandy Naglich said in an email. Unimpressed by the "watery beer options" that college offered, Naglich began seeking out exciting and interesting beers. "Eventually, that led to me making my own," she said. 
And she's pretty darn good at it — Naglich won a gold medal at the 2016 National Homebrew Competition. She was the only woman to win gold that year. 
"I'm a homebrewer, I run into far more men in the hobby than I do women, without a doubt," she said. "Homebrewing and consuming beer seem to be more dominated by men than the beer industry or the professional side of brewing."
She thinks that the industry needs to "grow up" and shut down racist and sexist themes in beer marketing. "I don't think [it's inclusive], right now, but I know people are trying." 
But Naglich sees craft beer being accessible in that "almost anyone can get into it," she said. "You can start up anywhere in the country and with barley, hops, water and yeast, you're a brewer! That's exciting to me."
Kat Martinez, owner/head brewer, Lineup Brewery
Martinez grew up in Colorado where "beer culture is everywhere," she said in an email. The beer community drew her in, and she later began digging into the different beer styles and the history behind brewing. 
After winning home brew awards and working in software engineering, Martinez decided to quit her job and start her own brewery in Brooklyn, New York. She worked for months to secure the legal rights to serve her beers and finally opened her taproom in March 2017. 
"People sharing, tasting and discovering new things about different beer styles is my favorite part of the scene," Martinez said. "In saying that, there's unfortunately a new air of pretension and exclusivity that has become a part of craft beer." Part of that pretension includes "people who tend to reinforce traditional gender roles, such as the erroneous idea that men are more well-versed in beer and have more experience," she said. 
Martinez said she's "slowly but surely" seeing more women in the beer industry. "[Beer] is for everyone," she said, noting she knows several woman who have "unreal palates" and can detect flavors, aromas and textures in beer. When men at bars mansplain what an IPA is to Martinez and her advanced Cicerone friends, it can get awkward fast. "It's embarrassing for everyone, but particularly for the guy who assumes!" she said. 
Shammy Dowd, avid beer Instagrammer
Shammy Dowd gets hundreds of likes on Instagram photos of her sipping craft brews like Greenpoint beer on her popular beer-centric Instagram page, @craftcoasters. But more mainstream drinks like Blue Moon, Stella Artois and Hoegaarden were just Dowd's gateway into the world of beers, Dowd said in an email. Her husband later introduced her to the craft beer scene. "It took one sip of Founders Breakfast Stout and I was hooked. I never knew beer could have so much flavor and be so creamy," she said. 
"The craft beer community on Instagram, in my opinion, is definitely dominated by men," Dowd said. "I believe its because they typically choose beer as their drink of choice versus women, however, I do see that the ladies who are passionate about beer are just as involved and take their hobby very seriously." 
A drink shouldn't be defined by gender, Dowd said. "We are in the 21st century and I think it's time for those people to let go of that myth." 
Cat Wolinski, beer writer
Serious hustle helped beer writer Cat Wolinski transform her passion for beer into a beer writing career. In 2012, Wolinski began blogging for Brokelyn.com, a local blog, while still working full-time as an editor of another magazine, she said in an email. 
"Beer was my escape, both personally and professionally," Wolinski said. Now she has bylines in publications read globally. She also is the curator for Brokelyn's annual Beer Books, books that gives consumers discounts at the best beer spots in Brooklyn neighborhoods.  
"Part of what drew me to beer in the first place was the welcoming and friendly vibe that's pertinent throughout the industry and community as a whole, even when I'm the only woman in the room," Wolinski said. "That being said, once in a while, a comment will set me back or fire me up for a second, but you can't take those things personally. (One of my favorites is 'you don't drink beer, right?')"
"The only obstacles women face in the beer industry are those we face in every industry — sexism, ostracism, being outnumbered — but those are constructs that will only hold you back if you let them." — Cat Wolinski, beer writer
Wolinski noted that there are "definitely" more women around compared to a few years ago. "[Women are] everywhere from beer festivals on the consumer side to breweries and distributors on the industry side," she said. 
"The only obstacles women face in the beer industry are those we face in every industry — sexism, ostracism, being outnumbered — but those are constructs that will only hold you back if you let them," Wolinski said, explaining she meets with "more and more" women who are marketers, brewery founders and brewmasters. "Women are everywhere in the beer industry, you just have to take the time to look for them — or us — and notice what we're doing." 
If people are intimidated by the beer scene or think "it's some special club where you have to know a lot about the beverage to enjoy it," Wolinski has some words of wisdom. "At the end of the day, it's just beer," she said. "Beer is meant to be an everyman's and everywoman's and everybody's beverage, and the only way to learn more about it is to experience it, by drinking it and talking to other beer drinkers about it. We love doing that."