Bill O'Reilly mocks Maxine Waters' hair, won't listen to her because of "James Brown wig"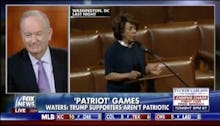 On Fox and Friends Tuesday morning, Fox News mouthpiece Bill O'Reilly mocked Democratic Rep. Maxine Waters' hair after watching a clip of her speaking out against President Donald Trump and his supporters. 
During the clip, Waters railed against Trump, calling him "dangerous."
When we fight against this president and we point out how dangerous he is for this society and for this country, we are fighting for the democracy, we are fighting for America. We are saying to those who say they are patriotic, but they turn a blind eye to the destruction that he's about to cause to this country: You're not nearly as patriotic as we are.
After Waters' speech ended, O'Reilly said he didn't absorb any of her message — because he was distracted by her hair.
"I didn't hear a word she said," O'Reilly said with a chuckle. "I was looking at the James Brown wig." The cohosts of Fox & Friends, Ainsley Earhardt, Brian Kilmeade and Steve Doocy, laughed at O'Reilly's joke. 
After the clip began to go viral, in a statement to Mic, a representative for Fox News said that Earhardt, in response to O'Reilly's comments, said, "I have to defend her [Waters] on that. You can't go after a woman's looks. I think she's very attractive."
This isn't the first time a Fox News correspondent has lobbed a racially-insensitive barb Waters' way. In 2012, host Eric Bolling told Waters to "step away from the crack pipe" after video surfaced of Waters calling Republicans John Boehner and Eric Cantor "demons." 
That O'Reilly mocked Waters — who is 79 years old and has held public office for 37 years — for her hair instead of listening to what she said is telling. Rather than listening to her critiques, O'Reilly felt it was OK to deride Waters for her appearance, something that probably wouldn't happen to a white man. 
O'Reilly's attack is classic misogynoir — a specific type of anti-woman and anti-black prejudice that affects black women. This specific breed of prejudice means women like Waters, a distinguished member of Congress, and Gabby Douglas, an Olympic gold medalist, get made fun of for their hair rather than praised for their abilities. 
Unfortunately, O'Reilly's comment demonstrates that in 2017, black women's hair is still used as a way to delegitimize their accomplishments and place in society. 
In September, a court upheld the right of an employer not to hire Chastity Jones, a black woman whose job offer was rescinded because of her locked hair. In 2015, E! News host Giuliana Rancic joked that actress Zendaya looked like she smelled like "patchouli oil" or "weed" when she wore her in locks on an awards show carpet. Musician Solange tackled the trouble with people's fascination with black hair on her single "Don't Touch My Hair." 
Perhaps the most notable instance of a media personality mocking black hair is former CBS News radio host Don Imus, who was fired from his job after he called members of the Rutgers University women's basketball team "nappy headed hoes." 
O'Reilly himself has a long history of making insensitive remarks about the black community on Fox News. In April 2016, O'Reilly said that many black men are unsuitable for jobs because they are "ill-educated and have tattoos on their foreheads."
Waters, who has served in the House of Representatives since 1991, has been one of Trump's fiercest critics. She recently told Elle that she's "out to get him," and called Trump's entire cabinet "scumbags." She also chose not to attend Trump's joint speech to Congress or his inauguration festivities.
In a statement to Mic, O'Reilly apologized for his comments, saying, "I respect Congresswoman Maxine Waters for being sincere in her beliefs. I said that again today on Fox & Friends calling her 'old school.' Unfortunately, I also made a jest about her hair which was dumb. I apologize."
March 28, 2017 2:25 p.m.: This story has been updated.