'Moonlight' director Barry Jenkins to helm Amazon show based on 'The Underground Railroad'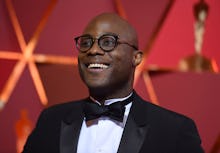 Fresh off a wild best picture win at the Oscars, Moonlight director Barry Jenkins is already getting his next project lined up.
According to Variety, the 37-year-old Miami native will write and direct a drama series for Amazon based on The Underground Railroad, Colson Whitehead's 2016 National Book Award-winning novel about an enslaved black woman who escapes from a cotton plantation in Georgia.
Jenkins is at the vanguard of a burgeoning new era for black filmmakers in Hollywood. As racial inequities in the film industry gain increased attention — united most recently under hashtags like #OscarsSoWhite — young directors like Jenkins, Ava DuVernay and Ryan Coogler are carving out a space for themselves by bringing unapologetically black stories to the big screen.
Moonlight — which earned Jenkins Academy Awards for best picture and best adapted screenplay — tells the story of Chiron, a black boy in South Florida who navigates issues of intimacy, sexuality and violence as he becomes a young man. The film drew praise for its visual beauty and the skill and sensitivity with which Jenkins handled his subjects.
Variety reports that Jenkins' Underground Railroad adaptation will be the first time Jenkins has directed an entire TV series. This approach — previously used on HBO's True Detective, where Cary Fukunaga directed every episode in season one — will give Jenkins significant creative control over the show's tone, style and pacing.
Jenkins has previously directed episodes of the upcoming Netflix series Dear White People and the PBS show Futurestates. Moonlight was his second feature film as a director. The Amazon series does not yet have a release date.