Paul Ryan again says GOP will work on Obamacare repeal — but gives no plan or timeline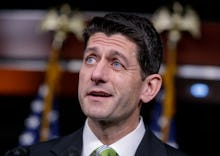 House Speaker Paul Ryan vowed on Tuesday that the GOP was not abandoning its promise to repeal and replace the Affordable Care Act, telling reporters on Capitol Hill that Republicans are "going to move forward on the things the American people sent us here to do."
Ryan's comments come a few days after an embarrassing defeat of the American Health Care Act — the GOP-led plan to repeal and replace the ACA. President Donald Trump and other top White House officials said that after the AHCA's failure, Republicans would move on to other things, such as tax reform.
But Ryan contradicted that game plan, saying Republicans are going to continue talking about how to fix the law his party has demonized since its passage in 2010. It was a similar message Ryan made to Republican donors in a conference call on Monday.
Still, Ryan offered no details regarding what the possible ACA alternative would contain, nor  would he commit to a timeline, saying instead that they would move at their own pace because "this is too important to not get right."
Yet other GOP House leaders, including Majority Whip Steve Scalise (R-La.) promised that Republicans are "closer today to repealing Obamacare than we ever were before."