'13 Reasons Why' mystery: Here's what you need to know about the chilling plot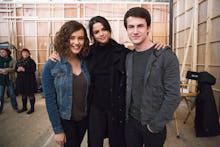 We're ready for 13 Reasons Why to be our next Netflix binge-watch. 
The series, based on the young adult novel of the same name by Jay Asher, is the streaming service's latest offering. The show's plot has everyone buzzing because it sounds like the next big teen mystery drama. 
We meet Clay Jensen. One day after school, he comes home to find a suspicious-looking box with his name on it on his porch. 
Inside the box, Clay finds several cassette tapes with voice recordings from Hannah Baker. Hannah and Clay had classes together and was someone he was developing strong feelings for. Unfortunately, Hannah died by suicide just two weeks earlier. 
The tapes are shocking, and what Hannah reveals about why she ended her life are all part of the mystery. On the tapes, she reveals the 13 reasons why she committed suicide and who was the reason for it. 
Selena Gomez is attached to the show as a producer. Putting the series together has been a passion project for her. "My mom found this book in 2009 and worked her ass off to make it with me, guide me and tell this story authentically," she shared in an Instagram caption. 
Dylan Minnette, Katherine Langford, Kate Walsh, Brian D'Arcy James, Derek Luke, Brandon Flynn, Justin Prentice, Alisha Boe, Christian Navarro, Miles Heizer and Tommy Dorfman star in the series.
13 Reasons Why will be released on Netflix on Friday, March 31. 
Mic has ongoing TV coverage. Please follow our main TV hub here.