7 ways to make vegetables taste better: How to grill, char, roast, braise and more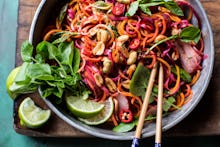 You know you need to eat your veggies, but sometimes force-feeding yourself bland sticks of celery or boring lunch salads can feel like self-induced torture. 
Can you really choke down another serving of microwave-steamed green beans or sheet pan dinner broccoli florets? No, no you can't. And you don't have to. 
Expanding your realm of vegetable cooking techniques can help coax a vast range of flavors out of vegetables you already kind of like and are comfortable cooking. Start grilling, roasting, spiralizing and ricing to boost your veggie intake in the most exciting way. 
Grilling and charring
One easy way to amp up your veggies? Use fire. Simply throwing your vegetables on a grill — or if you're living without outdoor space, perhaps a George Foreman grill or other indoor equivalent — can add a tasty charred flavor to your vegetables with minimal effort and ingredients. If you're feeling brave, you can try and char a pepper or corn on the cob over a stovetop flame, but you may want to have a sous chef with a fire extinguisher nearby. Try: 
Glowing grilled detox salad
Tossing your romaine lettuce and corn on the grill adds an entirely new depth of flavor that can actually make eating a salad exciting. Get the recipe here. 
Grilled avocado halves
Sick of just digging a spoon into a raw avocado and calling it a meal? Grill it for a quick flavor fix. Get the recipe here. 
Grilled Brussels sprouts
Think you hate Brussels sprouts? Try grilling 'em before you make up your mind — you'll see. Get the recipe here. 
Spiralizing
OK, so spiralizing isn't actually doing anything to make your veggies taste better, but it does help disguise that otherwise uninspiring zucchini as a noodle. Or zoodles, if you will. Coat your spiralized vegetables with your favorite sauce, enjoy them in soup or make a raw salad with your healthy spiralized creations. Try:
Rainbow veggie noodles
Cancel that Thai takeout order and spiralize your own beets, carrots and sweet potatoes for a vegetable-packed version of the rice noodle dish. Get the recipe here. 
Dan Dan zoodle soup
A rich, flavorful broth and spicy ground pork make this zoodle soup so delicious, you'll forget you snuck in veggies in place of real noodles. Get the recipe here. 
Vegetable ribbon pasta
Turkey bacon and soft cheese amp up these pappardelle-like zoodles to make this vegetable-based meal feel super decadent. Get the recipe here. 
Roasting
Roasting isn't just for chickens and big vats of meat. Roasting and slow-roasting your vegetables can help bring out smooth flavors and create a nice, soft, inoffensive texture to make less-palatable veggies a lot more appetizing. Try:
Garlic roasted carrots
Garlic and herbs bring out carrots' savory side, so you can enjoy them as a hearty side dish or main course. Get the recipe here. 
Simple roasted tomato sauce
Roast the tomatoes to bring out new flavors and encourage yourself to enjoy homemade condiments rather than sugar-filled, preservative-packed store-bought versions. Pour your homemade mixture on zoodles for bonus points. Get the recipe here. 
Braising
Braising — or slow cooking in liquid — is a popular technique for bone-in meats, but it can also be used to break down tough vegetables into soft delights packed with brothy flavor.
Collard greens braised in coconut milk
This totally vegan recipe for greens is easy to make and pleasing to pretty much any diet. Get the recipe here. 
Braised daikon with salted pork and glass noodles
Demystify daikon, the popular and crunchy crudité component, by braising it for optimal tenderness. Get the recipe here. 
Braised kuri squash with shishito peppers
Both sweet and spicy, this braised squash is seriously satisfying and soft. Get the recipe here. 
Ricing
Just like zoodles replace noodles with full-on vegetables, cauliflower and broccoli rice replaces the grain with greens. Invest in a ricer or purchase your vegetables pre-riced — thanks, Trader Joe's — to make rice-like dishes completely with vegetables. 
Roasted cauliflower rice with garlic and lemon
Sub out your traditional grain pilaf for an all-veggie side dish. Get the recipe here. 
10-minute healthy cauliflower rice
This cauliflower rice is packed with bonus vegetables to make a quick and nutritious vegetarian dinner. Get the recipe here. 
Fry-ifying
Frying your vegetables may not be the healthiest option, but turning your vegetables into fry-like creations can be healthy and satisfying. You could also wrap your veggies in bacon, but that might be defeating the purpose of cooking vegetables in the first place. 
Baked zucchini fries
Zucchini is good again! Get the recipe here. 
Skinny Cajun sweet potato fries with garlic cheese sauce
You'll never go back to white potatoes again. Get the recipe here. 
Hiding them in dessert
Disguising your vegetables in cake is a surefire way to make greens more palatable — and actually tempting.
Zucchini brownies
You've heard of zucchini bread, but have you tried zucchini with chocolate? Do it. Get the recipe here. 
Fudgy vegan beet cupcakes
Sneaking beets into chocolate cupcakes? Brilliant and delicious. Get the recipe here.