Trump Executive Order: President signs order rolling back Obama's Clean Power Plan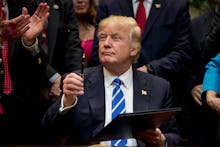 As promised, President Donald Trump signed an executive order on Tuesday aimed at dismantling former President Barack Obama's efforts to curb climate change. 
Standing beside coal miners outside of the Environmental Protection Agency, the president debuted his "Energy Independence" executive order — a stark reversal of the goals of the previous administration primarily aimed at undoing the environmental protections known collectively as the Clean Power Plan. 
Specifically, the order will do away with regulations that had yet to go into effect on limiting carbon emissions from fossil-fuel burning plants, among other things, and will prioritize revitalizing jobs in the dying coal industry over safeguarding the environment.
According to the New York Times, the Clean Power Plan had been held up in courts for the past year over claims that it was unconstitutional. Scott Pruitt, the current administrator of the Environmental Protection Agency, had been one of the plan's detractors, suing the same agency that he now oversees 14 times over that and similar regulations.
The executive order confirms the worst fears of climate activists, who have long worried that Trump would make good on his campaign promises to unravel much of the work Obama had done toward safeguarding the environment.
Asked during a Tuesday press conference whether or not the president had an estimate of the number of coal jobs that would be saved by repealing the Obama-era climate regulations, White House Press Secretary Sean Spicer that he was "not aware of one."