What Time does 'Age of Triumph' Start? 'Destiny' update release time and download details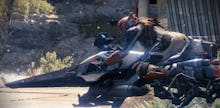 Destiny: Age of Triumph, the final update to the game before Bungie moves on to Destiny 2, is set to arrive on Tuesday. Here's the exact release time and everything you need to know before it hits.
What time does Age of Triumph start? Destiny update release
According to VG247, Destiny: Age of Triumph goes live at 1 p.m. Eastern (that's 10 a.m. Pacific). It's launching as update 2.6.0. So keep an eye out for that patch as the release time draws closer. Additionally, the incoming update means the weekly patches to the game that usually reset the Weekly Heroic Strike and Weekly Nightfall Playlists won't be available while Age of Triumph is rolling out.
Destiny: Age of Triumph is set to bring back all the old raids in the game, along with some new Light levels, new raid gear, new weapons, new exotics and more. According to Bungie community manager David "DeeJ" Dague (via Ars Technica), the update is supposed to serve as a "victory lap" for longtime Destiny fans.
According to Bungie, the update will also expand the Crucible Daily Bounties to more players, fix local network Fireteam issues, fix SIVA Key Fragment issues and fix Skeleton Key issues in the game. We still don't have the full patch notes, but they should be available as soon as the expansion hits. Stay tuned.
More gaming news and updates
Check out the latest from Mic, including our deep dive into how female Overwatch players are dealing with online harassment, an article about a fan movement advocating for more same-sex romance options in Mass Effect, a cool making-of video for Legend of Zelda: Breath of the Wild and an article about what a Bechdel test for gaming might look like.