Why is Aaron Kaufman leaving Gas Monkey Garage? The reason for the 'Fast N' Loud' breakup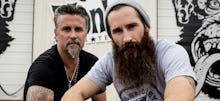 A large crew helps run Gas Monkey Garage in Dallas, Texas, but Richard Rawlings and Aaron Kaufman — aka the Bearded Wonder — are certainly the heart and soul of the place. That's why it was so shocking when season 12 of Fast N' Loud revealed that Kaufman would be leaving the series.
"I had some time off, and I think I got some other things — some other cats I want to skin," Kaufman told Rawlings. "Some other things I want to get into."
Although he initially called his departure an "extended vacation," he later clarified that he was leaving the garage for good.
"To quote Stevie Nicks, I think I have to go my own way."
Rawlings and Kaufman worked together for the past 14 years, but according to Kaufman, "the last five felt like 20." The main reason he's leaving the Gas Monkey Garage is because he's tired of the intense deadlines and is ready to build cars at his own pace.
The breakup between Kaufman and Rawlings is something that has been talked about for months. Though the episode didn't air until the beginning of March, Rawlings wrote about Kaufman's departure in a December blog post. 
I want you all to know that it was not my decision and came completely out of left field. Aaron has been a part of Gas Monkey Garage since day one, and it will be a painstaking process moving forward without his talents. It is a big hit to GMG, but please note that it would be an insult to everyone here at Gas Monkey who has been putting in the work these past few years to say that we can't do it without him.
Gas Monkey Garage is not one person, it's not two people, it's a team. AK helped me build GMG, and he helped build the team here, which is why I'm confident we will continue to crank out killer rides week after week. You know I like to keep the drama away from the cameras, and that's something I'll continue to strive for. You won't see a degenerating team or a bunch of arguing. We are about the cars, brand and family.
Fans of the Aaron Kaufman and the Discovery Channel series won't want to miss a special episode of Fast N' Loud: Revved Up on Saturday at 10 p.m. Eastern. The episode will reunite Rawlings and Kaufman, who will "look back at their partnership as Aaron prepares to say his final goodbye to the show."
Fast N' Loud airs Mondays at 9 p.m. Eastern on Discovery Channel.