It's On Us "Autocorrect" PSA translates casual conversation to reveal rape culture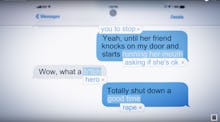 A new PSA is aiming to illustrate the subtle yet insidious ways in which rape culture seeps into everyday conversations.
On Tuesday, former Vice President Joe Biden tweeted a new video from the It's On Us campaign he spearheaded during his time in the White House. Titled "Autocorrect," the video makes illustrative edits to an all-too-realistic conversation about sexual assault.
The PSA features two men discussing a hookup over text. Bro No. 1 asks Bro No. 2, "Remember that drunk chick I was talking to at the party?" "Talking to" autocorrects to "targeting" before Bro No. 1 explains he "had to encourage her a bit" in order to "get some" — "encourage" correcting to "force." 
The described encounter ends with the girl's friend knocking on Bro No. 1's door, "running her mouth" ("asking if she's OK"). Bro No. 2's characterization of that friend as a "b*tch" autocorrects to "hero." The totally "good time" the first man expected to have was aptly autocorrected to "rape."
The bottom line: 
"Don't ignore the subtext," the voiceover says. "It's on us to intervene in sexual assault."
Furthermore, as Biden put it in his tweet, "The correct word for sex without consent is rape. Period." 
Biden launched the It's On Us campaign in 2014 to help improve bystander intervention to prevent sexual assault, educate people about consent, support survivors and bring men into the conversation — in this case, by offering them a handy translation lesson for future use.