'Tomb Raider' Movie: Release date and plot of the Lara Croft video game adaptation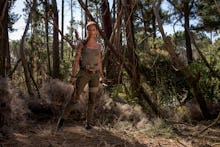 If there is one genre that has had a hard time taking off at the box office, it is video game adaptations. While adaptations of comics, television series and young adult books have translated into huge box office returns, the same just cannot be said about video games. Believe it or not, the highest grossing video game adaptation domestically is still the Angelina Jolie-starring Lara Croft: Tomb Raider, which was released in 2001. 
Despite the historical failures, studios are still attempting to launch major blockbuster franchises out of successful video games. Universal tried and failed with Warcraft, which brought in just $47 million domestically. Fox gave it their best shot with Assassin's Creed, but that film only earned approximately  $55 million. Now, Warner Bros. is hoping to find success with the character that still holds the top spot among video game adaptations: Lara Croft. 
On March 16, 2018, Warner Bros. will dig for gold with Tomb Raider, which will star Academy Award winner Alicia Vikander in the lead role. And there is reason to be optimistic that Tomb Raider could break the trend of less-than-successful video game adaptations. Not only is Vikander's stardom on the rise after highly memorable appearances in films such as Ex Machina and The Danish Girl, but Lara Croft is one of the more iconic video game characters. 
Further, when studios decide to make such movies, audiences tend to turn out, longing for action-packed films that feature strong female heroines. Obviously, The Hunger Games franchise proved this to be true. And Felicity Jones' lead role in Rogue One certainly did not turn anybody away. Other films like Lucy, the first two Divergent movies (no matter how bad they were) and, of course, the original Lara Croft: Tomb Raider all broke $100 million at the domestic box office. And there are plenty of others.
What will ultimately determine Tomb Raider's success, though, is whether it is any good. While we cannot answer that question quite yet, we can at least reveal what the film will be about. It sounds like Tomb Raider will be much more of an origin story than previous films featuring the character, meaning we likely can expect a fresh take on Lara Croft — and that's a good start.
You can check out the official synopsis for Tomb Raider below: 
Lara Croft is the fiercely independent daughter of an eccentric adventurer who vanished when she was scarcely a teen. Now a young woman of 21 without any real focus or purpose, Lara navigates the chaotic streets of trendy East London as a bike courier, barely making the rent, and takes college courses, rarely making it to class. Determined to forge her own path, she refuses to take the reins of her father's global empire just as staunchly as she rejects the idea that he's truly gone.
Tomb Raider will be released in theaters on March 16, 2018. 
Mic has ongoing coverage of movies. Please follow our main movies hub here.