Nintendo Switch Stock Update: Official restock schedule revealed — here's when to buy one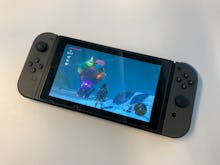 The Nintendo Switch stock situation has been a real rollercoaster. Even though Nintendo promised that it wouldn't pull another NES Classic with the Switch, potential buyers remain unable to snag the console. That's slowly changing, as Toys R Us has seen a restock and several people have purchased GameStop bundles — but how soon can we expect consistent Switch stock to be available in stores?
Few can say for sure, but Nintendo now claims that its flagship store will regularly (at least for a little while) receive new units. Here's when to expect more Nintendo Switch stock to arrive.
Nintendo Switch stock update: When new units will hit the Nintendo World Store
If you're looking for a Nintendo Switch and you live in or near New York City, you're in luck. Nintendo has posted the official dates and times you can expect a restock of the system at their flagship store. Here they are:
•Tuesday, March 28 at 5 p.m. Eastern
•Wednesday, March 29 at 10 a.m. Eastern
•Thursday, March 30 at 4 p.m. Eastern
•Friday, March 31 at 10 a.m. Eastern
As the tweet notes, this applies to only the Nintendo NY store. So what about Best Buy, Target, Walmart and the others? Well...
Nintendo Switch stock update: How to locate units at every other store
We've shown you before how to check all stores selling the Nintendo Switch at once and even set up alerts when there's stock. Sites like NowInStock, iStockNow and Brickseek offer handy ways to check stores near you. Even better is to call your local stores regularly, because individual storefronts don't always broadcast when they have new stock.
If you live in New York, you may want to venture out to the Nintendo store in Midtown Manhattan for the incoming stock one of those four days. If not, call your local stores and check the above stock trackers.
More Nintendo Switch coverage
Looking for more Nintendo Switch news? Check out how blind gamers are using the Nintendo Switch. Nintendo's left Joy-Con issue turns out to be a hardware problem — find out how to solve it. Find out how to buy a console amidst the recent restock. Learn why the Switch cartridges taste so bad. Check out our comparison photos sizing up the Switch to the Wii U GamePad (part one and part two), or find out how to make use of ethernet without the dock and the best way to get alerts when new stock arrives.