'Ghost Recon Wildlands' Yeti: Players search for mythical creature in the game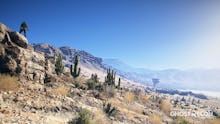 Ghost Recon Wildlands has seen a bit of controversy over its use of Bolivia in telling a fictional story about drug cartels. Another thing you're unlikely to find in real Bolivia is a murderous Yeti, but Ghost Recon players are hard at work trying to find one that seems to exist in the game's world.
Ghost Recon Wildlands players search for Yeti
The snow-dwelling, Bigfoot-esque cryptid is hinted at throughout the game, according to Game Revolution. There's a Yeti Hunter outfit you can buy in the uPlay Store and a few mauled corpses can be found in the game's snowy region. In this game's violent, fictionalized Bolivia, corpses aren't exactly rare. That said, these ones weren't killed by guns and aren't near any cartel activity. 
Some have theorized that it ties into the as-yet-unexplained Totem Statue collectibles. Eight statues litter the landscape, but when you collect one it doesn't enter your inventory. Instead, it teleports to a shrine in the snowy region. Collecting them all changes nothing except for making civilians show up and pray at the shrine.
Since Ubisoft games tend to be filled to the brim with collectibles, these statues could mean absolutely nothing. They could also be the key to finding the elusive Yeti. Word to the wise, though: I'm old enough to remember the Grand Theft Auto: San Andreas Bigfoot hunt. That urban legend was propagated by doctored images and videos on gaming forums, becoming one of the most famous video game myths around. Rockstar eventually put actual sasquatch hunting into Red Dead Redemption as a reference to it.
I'm just saying that you might be hunting for the Ghost Recon Wildlands Yeti in vain. Still, mystery is a great motivator. Get out there and be the one to finally find the Yeti.
More gaming news and updates
For more gaming news, check out the latest from Mic. Here's the latest on Diablo season 10, new Pokémon Go rankings, how to connect your Switch to Ethernet without the dock and everything there is to do in Zelda: Breath of the Wild's first level.