Today in Trump-Russia news: The Trump administration tries to silence key testimony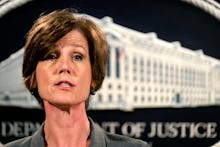 The ongoing Trump Russia fiasco continued today with an angry back-and-forth between the press and the White House over its potential role in trying to silence a key witness to the investigation. 
Also, the Republican chair of the House Intelligence Committee says he can sneak into the White House late at night if he wants, but he doesn't understand why everyone wants him to step down. 
Here's the latest:
The Sally Yates saga, explained
The debacle with former acting Attorney General Sally Yates and her planned testimony before the House Intelligence Committee has been hard to follow, so here's a step-by-step.
Yates, a holdover from the Obama administration, was the acting attorney general during the early days of the Trump administration — best known at the time for refusing to enforce Trump's travel ban and getting fired for it.
It later came out that Yates was the official who informed the White House that former national security adviser Michael Flynn had spoken with the Russian ambassador about sanctions while he was a member of the transition team. Yates passed the information about Flynn along to the president weeks before Trump claimed he found out about it, leading to some embarrassment for the White House.
For those reasons, and possibly others, the House Intelligence Committee called on Yates to testify in their ongoing investigation of the Trump-Russia affair.
We now know thanks to the Washington Post, that once Yates was asked to testify, her lawyer sent the Justice Department a letter, essentially asking for the proper permissions to provide testimony.
The Justice Department responded by saying that, because her testimony included privileged conversations with the president, she needed to ask the White House, and not DOJ, for permission.
Yates' lawyer then sent a second letter to the White House once again asking for permission to testify and clarifying, that if they did not receive a response by the day before the hearing, they would assume it was OK for Yates to testify.
The White House declined to respond to that letter, but shortly after it was sent House Intelligence Committee Chairman Devin Nunes (R-Calif.), who is already under fire for potentially being too close to the White House on this issue, abruptly cancelled her hearing.
At Tuesday's press briefing, Sean Spicer railed against allegations that they had attempted to block her from testifying, calling them "false" and saying, "I hope she testifies."
But Nunes has refused to say whether or not he canceled the meeting hearing at the request of the White House.
Devin Nunes faces calls to step down
House Intelligence Committee Chairman Rep. Devin Nunes (R-Calif.) continues to struggle to explain why he met with an intelligence source on White House grounds to discuss an ongoing investigation that involves the White House. His answers have ranged from evasive to outright strange like his claim he could have "snuck" onto White House grounds at night if he wanted to.
The Secret Service probably feels differently.
In addition, Nunes has cancelled all hearings on the Trump-Russia investigation scheduled for this week. As a result he has spent the past 24 hours facing a number of high profile calls for him to either reveal his sources for that meeting, step down from the investigation or allow to Speaker Paul Ryan to replace him as head of that committee. Here are just a few of the people demanding action:
• House Intelligence Committee ranking Democrat Rep. Adam Schiff: He released a statement calling for Nunes to "recuse himself from any further involvement in the Russia investigation."
• Senate Minority Leader Chuck Schumer (D-N.Y.): "Without further ado, Speaker Ryan should replace Chairman Nunes."
• House Minority Leader Nancy Pelosi  (D-Calif.): "Speaker Ryan must insist that Chairman Nunes at least recuse himself from the Trump-Russia investigation immediately."
• Sen. John McCain (R-Ariz.): "I think there needs to be a lot of explaining to do." (McCain also called on Nunes to reveal the sources he met with at the White House)
• Sen. Lindsey Graham (R-S.C.): "If he's not willing to tell the Democrats and Republicans on the committee who he met with and what he was told, then I think he's lost his ability to lead." 
• Rep. Jim Himes (CT-04): "The only way for us to proceed with any credibility ... is for Devin Nunes to recuse himself as chairman for this purpose."
• Rep. Eric Swalwell (D-Calif.): "It's time for Devin Nunes to leave this investigation, let alone lead it. He should be gone. This is what a cover-up to a crime looks like, we're watching it play out right now."
• Rep. Ted Lieu (D-Calif.): "If Chairman Nunes understood the Constitution and our separation of powers, he would resign his Intel Chairmanship immediately."
• Rep. Jackie Speier (D-Calif.): "I don't think he can just recuse himself and still chair the committee. I think that the writing is on the wall. It might make a good spy novel. It doesn't make a good investigation."
• Rep. Walter Jones (R-N.C.): The first GOP lawmaker so far to call for Nunes to recuse himself made his case Tuesday on the House floor. "How can you be chairman of a major committee and do all these things behind the scenes and keep your credibility?" Jones said, according to the Hill. "You can't keep your credibility."