Trump is trying to block a lawsuit from 'Apprentice' contestant who accused him of assault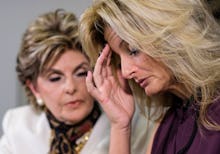 President Donald Trump is doing all he can to to dodge Summer Zervos' lawsuit against him, which alleges Trump attempted to kiss the former Apprentice contestant twice in 2007 before sexually assaulting her in a hotel room. 
According to the Hollywood Reporter, Trump's attorney Marc Kasowitz plans on filing briefs to the New York Supreme Court requesting that the suit be blocked because, well, you can't have a president who's being sued, right?
Kasowitz is arguing that maintaining the "Supremacy Clause" — which says federal law takes precedence over state laws — protects a sitting president from being sued in a state court. What's more, Kasowitz hopes to use a loophole of sorts from Bill Clinton's 1997 Supreme Court case, which ruled on a lawsuit leveled against him by former Arkansas state employee Paula Jones.
Though the court ruled a president doesn't have immunity from private litigation, Kasowitz said the decision raised unanswered questions about the potential impacts of a lawsuit on the president's ability to do his job.
It almost seems like the solution might have been to not elect a president with a few thousand lawsuits against him. 
Zervos is one of at least a dozen women who have accused Trump of sexual assault, but is one of few who have ever brought formal lawsuits against him based on those allegations.
Among them is a woman who said Trump raped her when she was just 13 years old during a party in 1994. While Trump has repeatedly denied the allegations, the unnamed woman's lawyer promised the president will see his day in court.
"This case, based on the sworn declarations of the victim and two corroborating witnesses, will be tried in court, where the defendants will be required to answer questions under oath and pursuant to the rules of evidence," Cheney Mason told BuzzFeed News in October. 
Gloria Allred, the attorney representing Zervos, has vowed the same.
"[The Clinton v. Jones case] determined unanimously that no man is above the law and that includes the president of the United States," she said in an interview with the Reporter. "We look forward to arguing this issue in court."