Is weed legal in Canada? Canada reportedly plans to legalize marijuana in 2018.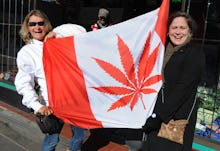 The Great White North is about the get a lot greener. 
Canadian lawmakers plan to introduce legislation to legalize marijuana nationwide by July 1, 2018, CBC News reported Sunday. Lawmakers in Canada's Liberal Party, currently led by Prime Minister Justin Trudeau, will announce the measure in April.
Among other mandates, the bill would centralize the licensing of marijuana producers under the federal government but leave other details, like pricing and distribution, up to individual provinces. 
Ottawa, Canada's capital city, will set the minimum age to purchase marijuana at 18, but provinces can choose to set higher minimum ages. Individual Canadians who want to grow their own marijuana will be restricted to four plants per household.
Legalizing marijuana was one of Trudeau's campaign promises. It's also considered one of the reasons the Liberals saw such strong support from young voters in the 2015 Canadian election, according to CBC News.
On its official website, the party vows to legalize, regulate and restrict access to marijuana:
Canada's current system of marijuana prohibition does not work. It does not prevent young people from using marijuana and too many Canadians end up with criminal records for possessing small amounts of the drug.
Now, it looks like Trudeau's campaign promise is on track to be realized. Rapper and marijuana  aficionado Snoop Dogg celebrated the news Monday with a string of emojis on Twitter.
While our neighbor to the north moves toward full legalization, things in the United States may be headed in the opposite direction. In March, Attorney General Jeff Sessions told a crowd in Richmond, Virginia, that marijuana dependency was "only slightly less awful" than heroin addiction. "Our nation needs to say clearly once again that using drugs will destroy your life," he said.
The Obama administration stepped back from imposing federal marijuana laws in states with legalized marijuana, but Sessions has indicated he might potentially enforce federal drug laws that directly contradict marijuana policies in Alaska, California, Colorado, Maine, Massachusetts, Nevada, Oregon, Washington and the District of Columbia — which have all legalized recreational marijuana — as well as in the 28 other states where medical marijuana is legal.