'Overwatch' Widowmaker Statue Price: This deluxe character figure costs a whopping $150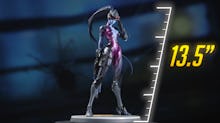 Blizzard Entertainment just announced a gorgeous new high-end Overwatch collectible: a hand-painted statue of Widowmaker that stands at 13.5 inches tall.
Now for the bad news: It costs $150. Yeah.
Of course, if you're a die-hard Overwatch fan with a knack for collectibles like this, maybe you can justify the cost. Take a look at the video Blizzard released that shows the statue in detail to decide for yourself.
Overwatch Widowmaker statue announcement
Right now, the statue is only available for pre-order. Blizzard's site says orders will ship "before the end of Q3." This is only the second such Overwatch character statue that's available so far, so it's likely that Blizzard will continue releasing statues for its most popular characters in the future. The first was a statue of Reaper.
For more on Overwatch, check out the rest of what Mic has to offer. Here is a a look at a very funny but naughty meme on the Overwatch subreddit, an interview with the creator of an awesome new Overwatch zine, a full explanation of the different types of health in Overwatch, our definitive ranking of every Overwatch hero, a roundup of awesome gender-bent Overwatch cosplay and a giant Overwatch FAQ for beginners.