Why is my iPhone slow? 9 ways to speed up an older device.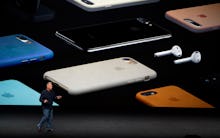 Do you have a slow iPhone 5, 5s, 6 or 6s? You're not alone. Every time Apple rolls out a new version of its operating system, those without the most current device know their phone will likely be a little more sluggish than usual. Sometimes it happens exclusively after an iOS update, and other times it seems to happen for no reason. For those stuck with an older model iPhone or whose device is just painfully slow, there are a few ways to speed up your smartphone. We asked some experts how.
1. Reboot your device.
The first step to speeding up a slower handset is to restart the device. Many times, a simple reboot is all it takes. "A lot of people only ever think about restarting [their phone] when it dies on them or when it's freezing up on them," Matt Zieminski, an iFixit Pro account manager, told Mic. "A lot of times just restarting it will clear the memory in the phone and allow it to boot up successfully. Maybe there's an unruly app that was causing it to act slow — it allows the phone to start fresh."
2. Clean up your phone's photos, videos and apps.
Making some space by deleting photos, videos and apps on your device can help boost the speed of your iPhone if your smartphone's hard drive is almost full. To see if you're close to capacity — assuming you have not already met the dreaded "storage full" message — go to the "Settings" app, "General," "Storage & iCloud Usage" and tap on "Manage Storage." Here, you can get a breakdown of used storage and available storage.
Further below this information area, you can get a list of apps organized by most storage used to least. This makes it easy to delete apps that you no longer use and make critical judgment calls on any apps that may not be worth the space they take up.
With Apple's newly released iOS 10.3, the operating system transitions from an HFS+ filing system to an Apple File System. This switch reportedly increases available storage space.
3. Clear up your browser history.
In addition to deleting photos and videos and removing unused apps, clearing your browser history can help, according to the Telegraph. That is, if you're a Safari user. In addition to storing details of your activity, the Safari browser collects cached pages and cookies. To clear it all up, go to the "Settings" app, "Safari" and select "Clear History and Website Data."
4. Turn off background app refresh.
Apps can constantly refresh themselves even when you're not using them. This feature — background app refresh — can impact how fast your phone works. Zieminski explains that processes like background app refresh put pressure on the hardware of your device, specifically its CPU chip. Eliminating this function can help your phone shift its focus.
"That stuff will really allow the phone to re-prioritize what it sends most of its CPU processing power to," he said. "Otherwise it could be trying to run the camera in the background so it's easily accessible, but you don't really need. You'll notice your phone may run hotter, it may run slower."
To turn off the feature, go to the "Settings" app, "General" and "Background App Refresh." Here, tap the toggle to switch off the function.
5. Nix automatic downloads.
Having apps download automatically when they are ready for an update is a great way to stay up to speed with the newest version without having to do much work. But, according to CNet, automatic downloads occupy your device's CPU so disabling this feature can be beneficial. Opt for manually updating your apps by going to the "Settings" app and tap on "iTunes & App Store." Under the "Automatic Downloads" section, select on the toggle switch to turn off "Updates."
6. Opt for Apple's officials apps.
iPhone users may prefer Google Maps to Maps, the Chrome app to Safari and the Weather Channel's app to the iPhone's Weather app. But, according to the Telegraph, official Apple apps tend to run faster than third-party apps since they have "special permissions." For some users, it could be worth it to switch over to Apple's official apps; for others, splurging on a new device would be a worthy sacrifice.
7. Resist the temptation to update your software.
If you have a really old iPhone model and are already noticing your device is slowing down, then it may be in your best interest to refrain from updating to the latest software. Apple's website recommends always updating to the most updated software, but this can take up space on your device. And, once you update, you can't go back to an older operating system, said Zieminski.
"There's nothing you can do," he said. "You can get a new battery, you can get any time of new hardware and you're still going to see that reduced life."
8. Consider a new battery.
If the aforementioned tips don't do the trick, then routine maintenance might be the answer. Instead of ditching your device altogether, consider getting a battery replacement. Zieminski says the average Apple lithium-ion battery lasts 18 months and a simple replacement can extend the life of your handset.
"After [18 months], users can see a noticeable decline in performance," he said, adding that a replacement can leave your phone acting like its new.
9. Know when to give up.
When all is said and done, there's only so much a consumer can do. "There's only so much you can do before the realities of outdated hardware competing with updated software don't really go together," Zieminski said.