Welcome to the new Mic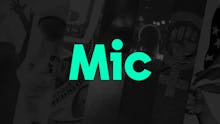 Nine new channels, one new logo and a fully reimagined digital experience — all powered by the most diverse voices in journalism.
Welcome to the new Mic.
We're living in an unprecedented moment, one of the most important times for media organizations to do their jobs with utmost integrity. At Mic, this means fair and transparent coverage that connects deeply with our audiences on issues they are impassioned about. Beginning today, we are offering more ways to engage and more content to engage with.
You may have come across Mic in your social feeds, through a push notification or while talking to a friend. If you're new here, we'd like to explain who we are at our core, our essential values. And if you've been connected to our storytelling awhile, here's how we're growing to meet the things you've asked of us.
Our values drive our journalism
While maintaining the rigor and commitment to original reporting and championing fact-finding, Mic gives voice to critical news stories from modern and diverse perspectives. We believe in:
Committed, professional journalism, reimagined. We reject the idea that professional journalism held to the highest standards can't be delivered in modern forms that meet people where and how they live.
Diverse perspective on essential facts. We believe issues are best understood by the people most impacted by them. Our newsroom houses a diverse pool of talent to ensure you get stories rich in detail and knowledge others will miss.
First-person journalism and transparency. We believe reporters see the same facts differently depending on who they are and where they come from. That means reporting through a personal lens is sometimes necessary to tell a story in full color. 
You may have already noticed our new Mic logo, shown below. It's a more modern take on the original. We dropped the blue dot, made a custom cut of the typeface (GT Walsheim, for you font nerds out there!) and moved to a new color scheme.
Our new logo represents these stated fundamental values. It was designed to telegraph our digital roots as well as our commitment to professional journalism. We don't need a traditional serif font or grayscale color palette to give credence to our work. This bold and recognizable choice has a high readability on the small screen, throughout the social landscape and within our video content.
Why we're launching new channels
Over 66 million unique individuals read or view Mic's storytelling each month. We've covered news on the ground and spent the last year deeply immersed in the platforms where our audiences are most engaged. We know that the new journalism cannot be done in a vacuum. It is powered by our audience's passion points, and we've built our new channels around them, with new voices, visual formats and areas of focus.
In many traditional media companies, newsrooms make their decisions on which stories to cover based on what they think their audiences might want. In our case, we started with the audiences and communities within social platforms. For Slay and Strut ("feminism" and "beauty" broadly defined, respectively), we found existing audiences hyper-engaged in social channels through stories, issues and influencers. We deployed editors and graphic animators to produce journalism for and with these audiences, to much success. Our new channels will build on that work, giving audiences what we know they're interested in — not just what we think they might want to know.
Introducing our new channels and missions
Some of these channels may feel familiar, and you may be already following them on social. A few, developed over the last year, are now thriving with our audiences across Facebook, Instagram and other platforms. Others are newer ventures that focus on the stories you've told us you want to read.
As of today, seven channels have launched across our site. Our newsroom is divided into desks that work across the various channels. Video editors, reporters, audience development producers, animators and designers, columnists and on-air personalities all work together. To keep up with each channel, you can subscribe to newsletters and podcasts, read stories and watch videos, follow social accounts and more. In the coming months we will roll out more features and personalization, allowing you to connect even more directly with our reporters. 
We are proud to launch the following channels:
Navigating Trump's America is Mic's politics channel with a singular focus: helping Mic readers understand today's political moment. From comprehensive explainers to careful reporting and on-the-ground coverage, we provide a complete picture of what's happening for a hyper-engaged, politically astute reader. You can follow our coverage here and connect with us via our newsletter, Facebook and Twitter.
Slay covers the most pressing issues impacting young women's lives. We celebrate successful women while analyzing the distinct challenges women face today. From the gender pay gap and political representation to navigating a Snapchat-driven, Tinder-fueled culture, the Slay breaks it all down through personal essays, nuanced investigations and everything in between. You can follow our coverage and sign up for our newsletter here and connect with us on Facebook and Instagram.
Hype is obsessed with the best of pop culture — TV, film, music, videos, books and emerging media — with an eye toward what's new and relevant to a generation of conscientious media consumers. We cast a discerning eye to not just what should be better, but how it can be better. You can follow our coverage here, with more coming soon.
Payoff is a personal finance channel for people facing life's first big financial decisions: How do I handle student debt? When should I buy a house? How can I afford to have a kid? When do I start saving for retirement? It offers strategies on how to traverse unique issues like Venmo debt, Seamless spending and Uber stipends vs. car purchases, all of which are distinct to a new generation. You can follow our coverage and sign up for our newsletter here, subscribe to our podcast or follow us on Twitter.
Strut strives to empower and embolden readers by embracing an inclusive new understanding of personal style. We highlight people who champion diverse body shapes, sizes and colors. We challenge common beauty standards and showcase the journeys of people who have overcome their own insecurities to strut with confidence and joy. We'll also spotlight lesser-known people and channels and designers that expand the boundaries of what fashion is and who it is for. You can follow our coverage and connect with us on Facebook and Instagram.
The Movement documents the most vibrant social issues and activism of our time. We go inside the protests to understand the ideas fueling them, and we go beyond them to learn about the issues people are passionate about. We talk to the communities most impacted and embed ourselves in the movements at the forefront of these changes to America and around the globe. You can follow our coverage and sign up for our newsletter here and connect with us on Facebook, Twitter and Tumblr.
The Future Is Now is the ultimate guide to consumer tech, social media and the latest scientific breakthroughs for the cord-cutting generation. Our aim is to shift tech culture and start a new conversation for a highly engaged, highly diverse audience. You can follow our coverage and connect with us on Facebook and Tumblr.
Out of Office (launching soon) is for the purposeful traveler and food adventurer who recognizes the importance of a clean break from the daily grind. We'll take our audience to new places, create itineraries for locations you shouldn't miss and guide you to dishes worth going far out of your way to try. We'll do it through through the eyes of young adventurers finding new, amazing places to explore.
Multiplayer (launching soon) is the ultimate guide to the world of gaming. We strive to be a valuable resource for every player at every level, and to provide expert advice anyone can understand on the most popular titles out there: major releases on Xbox, PlayStation and PC; Nintendo classics reimagined for the mobile game revolution; and the augmented-reality future Pokémon Go helped usher in. We find the best new indie and undiscovered games worth paying attention to. Along the way, we celebrate diversity and inclusivity in the gaming community.
The newly imagined Mic site
Last but surely not least, we've also fully redesigned our Mic website experience! Our overarching goal was to make it easier for users to discover interesting stories. Among the most evident changes are the look and feel of the site.
Each channel has its own visual identity that's been shaped by the editorial mission and how its users interact with content. Our new homepage and article pages make relevant recommendations and better surface our best reporting. We've iterated on infinite scroll to show the homepage after you finish an article. The recommended story can be text or video. The new site is also fast, incorporating AMP technology and progressive web app best practices. Even more detail on our new Mic experience will be shared in the coming weeks in a post from our product team. We'd love your thoughts, questions, ideas and any and all feedback on these changes. Please feel free to shoot us an email to feedback@mic.com — we'd love to hear what you think.