We need to talk about white American terrorism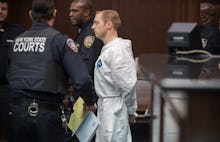 Mic Opinion — Mic invites contributors and staff writers to offer commentary and context about news and timely issues.
James Harris Jackson, 28, was charged with first- and second-degree murder as acts of terrorism on Monday for fatally stabbing Timothy Caughman, a 66-year-old black man, in New York City.
Jackson is white. Per his own admission, he traveled from Baltimore on St. Patrick's Day to kill black men and deter white women from getting involved with them romantically.
"'If that guy feels so strongly about it, maybe I shouldn't do it,'" Jackson told the New York Daily News on Sunday, explaining how he wanted white women to think about interracial dating in light of his actions.
Despite how Jackson's attack and charges have been described in this case, it's usually rare for white Americans to be characterized as "terrorists." For the most part, terrorist is a term applied to black and brown Muslims. It conjures images of a foreign threat driven by distinctly "un-American" ideologies.
But in reality, there is nothing foreign or un-American about terrorism. Jackson's hatred of black men and fixation on their relationships with white women echoes a long, grim legacy of white racial terrorism in the United States. For centuries, white Americans have lynched, shot, mutilated and otherwise brutalized black men and boys at whim, often as retribution for perceived advances or violence toward white women. Roughly 4,000 black Americans were lynched between 1877 and 1950 alone.
When Dylann Roof murdered nine black men and women at a church in Charleston, South Carolina, in 2015, he reportedly told one of his victims, "I have to do this because y'all are raping our women and taking over the world."
Meanwhile, black people haven't been the only victims. In recent years, bias-motivated attacks against Muslims, immigrants and people perceived as Muslims or immigrants has spiked dramatically. In February, a white man named Adam Purinton allegedly shot two Indian engineers in Kansas after reportedly yelling at them to "get out of my country." One of his victims died in the attack.
President Donald Trump and his supporters have made an aggressive display of painting Muslims — especially immigrants and refugees — as the greatest national security threat facing Americans today. But as domestic attacks continue, their refusal to acknowledge the much older and more costly threat of white terrorism highlights their hypocrisy.
And black and brown people continue to pay the lion's share of the consequences. Watch below as Mic's senior staff writer Zak Cheney-Rice breaks down this centuries-old problem.