This viral Snapchat of students in KKK robes got a school play canceled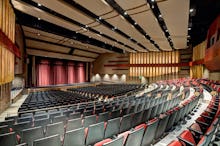 A Minnesota high school chose to cancel performances of a school play amid a controversy surrounding viral post on social media which showed students costumed in KKK robes.
New Prague High School in New Prague, Minnesota, had been planning to stage a production of Larry Shue's 1984 play The Foreigner, as its spring play, CBS Minnesota reported on Monday. The play centers around a man who pretends to be a foreign visitor to rural Georgia, and contains a scene in which the main characters must face-off against the Ku Klux Klan.
A New Prague student who is in the school production reportedly posted a photo of several student actors dressed as Klan members on social media on Friday, the Star Tribune reported, along with the message: "I think you're gonna want to come to the spring play ..."
The photo quickly circulated on social media, sparking outrage and concern in the school community. In an email on Monday, the school's principal and assistant principal, Lonnie Seifert and Tom Wetschka announced that in the wake of the viral photo, the school administration had decided to cancel all performances of the show due in part to the "the insensitive nature" of the student's social media post.
"... As we reviewed the social media post and conducted meetings with our theater director and concerned community members, we feel it is in the best interest of New Prague Area Schools to not present the show this weekend," the email said, according to the Star Tribune.
Performances of the play were scheduled for this coming Friday and Saturday. Ben Thietje, the theatre teacher at New Prague High School who was directing the play, said he was part of the "unanimous" decision to cancel performances of the show.
"The play has a positive message of acceptance and celebration of differences ... however, if it also causes stress to a portion of our student body, the point of performing it has been lost," Thietje said, according to CBS Minnesota. "The well-being of our students is the main concern. I take full responsibility in not doing a better job of communicating this message with students from the beginning."
Seifert, the school's principal, said it was important to cancel the play after the viral post, despite the fact the play's narrative mocks and derides the KKK.
"It's got a good message, a message of inclusiveness and acceptance of all," Seifert said, according to CBS Minnesota. "But unfortunately I believe what happened with the social media, the message is now lost."