After being insulted by Bill O'Reilly, Maxine Waters has a message for women everywhere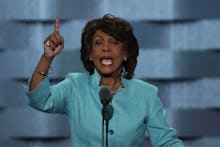 Rep. Maxine Waters, who Fox News' Bill O'Reilly taunted on Tuesday with a blatantly racist and sexist joke about how her hair resembled a "James Brown wig," had a message for the TV host on Tuesday: "I am a strong black woman, and I cannot be intimidated."
On MSNBC's All in With Chris Hayes, Waters responded to the comment by telling the host, "I cannot be thought to be afraid of Bill O'Reilly or anybody." And I'd like to say to women out there everywhere, don't allow these right-wing talking heads, these dishonorable people, to intimidate you or scare you."
"... Bill O'Reilly and Roger Ailes have no credibility," Waters added, bringing up the two men's history of being sued by former colleagues for sexual harassment. "They have been sued by women, they have had to pay millions of dollars out in fines for harassment ... we know about that checkered past, and we also know that when a woman stands up and speaks truth to power that there will be attempts to put her down."
"I am not going to be put down, I am not going to go anywhere, I am going to stay on the issues," the congresswoman concluded.
O'Reilly originally launched the racially-tinged barb after ignoring a clip of Waters criticizing President Donald Trump as "dangerous," saying "I didn't hear a word she said" because he was too distracted by her hair.
Waters was joined by former Democratic presidential nominee Hillary Clinton, who took to a women in tech conference in San Francisco on Tuesday to denounce O'Reilly. Clinton also took White House press secretary Sean Spicer to task, saying he "patronized and cut off" black female reporter April Ryan by scolding her for shaking her head during a Tuesday press briefing.