Hillary Clinton traded her pantsuit for a black leather jacket — and people were loving it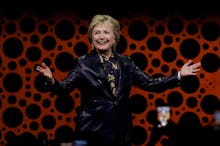 For a keynote address at the Professional BusinessWomen of California conference on Tuesday in San Francisco, Hillary Clinton arrived looking like a straight-up boss. 
For her speech, which included a defense of Rep. Maxine Waters (D-Calif.) and journalist April D. Ryan (who was reprimanded by press secretary Sean Spicer on Tuesday), Clinton swapped her usual vibrant pantsuit for a blouse covered in flora and a black leather jacket. 
The former secretary of state wore a black leather jacket, an international symbol for being an unapologetic badass. That's a boss move if we've ever seen one. 
Marlon Brando who?
Madonna what? 
Clinton did not come to play with y'all in San Francisco on Tuesday. 
Naturally, Twitter, almost immediately, erupted in glee. 
To many, Clinton really just looked like a badass. 
She really did come to slay. 
Just look at her, minding her own business, channeling Pat Benatar and making people emotional on Twitter. 
She's just doing her, as she damn well should.