Orlando designates Pulse shooting anniversary as "Orlando United Day"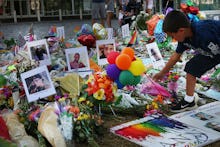 The city of Orlando, Florida, and the local Orange County government announced this week that June 12, 2017, the one-year anniversary of the Pulse nightclub shooting, has been designated as "Orlando United Day – A Day of Love and Kindness." 
An official announcement from the city of Orlando said that the day "will be dedicated to honoring the memory of the 49 innocent Pulse victims, supporting survivors and recognizing the compassion and love that was displayed by the Central Florida community following the tragedy."
The day will mark one year since a gunman murdered 49 people at Pulse, a gay nightclub, in what was the deadliest mass shooting in modern United States history. The attack sent shockwaves across the world, reverberating throughout LGBTQ communities.
Pulse had especially deep roots in Orlando's gay Latino community, and many of the victims of the June massacre were LGBTQ people of color. 
The official announcement from the city about the upcoming Orlando United Day promised "an opportunity to join with others in acts of love and kindness to continue the unity that followed the tragedy," including events "to remember the victims and honor the survivors."
However, neither the statement nor the short video announcing the day make explicit mention of the LGBTQ community or the fact that Pulse was a gay club — something that people on social media were quick to call out.
The slate of events planned for the day does make specific mention of LGBTQ people, though. An outline of events on the day's official website includes an unveiling of "the legendary Sea-to-Sea Rainbow Flag," a tribute to Pulse victims that the city says "has become a globally recognized symbol of the LGBTQ movement." The day will also include a memorial reading of the names of the 49 victims of the attack.
According to the Orlando Sentinel, the day was planned "with the input of Pulse survivors and the LGBTQ community."
"We don't want to focus on an act of terror, we want to focus on how we all came together," Commissioner Patty Sheehan, who is leading the planning of the day, told the Sentinel. "That's really what made it bearable for these families ... the love and support from this community."