BuzzFeed IPO 2018: You may be able to buy stock in the media company soon. But should you?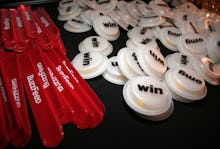 BuzzFeed seems to believe there's money to be made exploding watermelons, making dresses go viral and creating the perfect listicle: The company plans to go public in 2018, according to a Wednesday Axios report.
A representative from BuzzFeed declined to comment to Mic on the Axios story, but rumors of the BuzzFeed IPO first began to build momentum in November, when the Wall Street Journal reported on the company's partnership with NBC Universal. Back then, BuzzFeed was said to be valued at about $1.7 billion.
Hot on the heels of Snapchat parent Snap's IPO, the announcement adds to the impression that more startups with billion-dollar valuations will go public in the coming year. BuzzFeed could be the first among its millennial-focused digital media peers. Competitors Vox and Vice have not announced plans to IPO yet, although Vice has strongly hinted an offering may be in the works, according to Variety. Vox told Bloomberg they had no plans to IPO in 2016 after bringing on a chief financial officer — a hire that usually signals IPO ambitions. 
Are we headed for another IPO bubble?
While BuzzFeed's IPO may have been long expected, commenters on Twitter were quick to point out uncomfortable echoes of the 1999 dotcom bubble, when lots of trendy internet companies went public before they developed sustainable business models.  
Take, for example, Salon.com, which went public in 1999 for $10.50 a share. Today the stock trades at about $0.16 — a pretty big "fail" for early investors.
BuzzFeed has reportedly been profitable since 2013, according to CEO Jonah Peretti. But an April 2016 report in the Financial Times revealed that the company missed its revenue targets in 2015 and halved its goals for 2016, although BuzzFeed disputed that report.
Why prospective BuzzFeed investors might be cautious
Regardless of whether you think BuzzFeed's business is here for the long haul, there are always lots of good reasons to be careful when investing in any IPO. When a company stock debuts for the first time, there's not much financial information available to the public, which makes it hard for everyday investors to do their homework.
And while buying IPO stock sounds like it should "get you in on the ground floor" in theory, in practice a lot of the lowest-priced shares have already been doled out to insiders that set up the IPO. If you've got extra money to play with, odds are you'll see better returns by investing in a more established company. 
Lastly, media companies in particular have faced tough times on the open market. The last relatively large media company to go public was Townsquare Media, back in 2014, with very little love for the stock going around today.
Uncertainty around the future of the media business as a whole is one reason why some of the more successful brands you might think of as media — like, arguably, Snap or Facebook — tend to portray themselves as technology or other types of companies.
Sign up for The Payoff — your weekly crash course on how to live your best financial life. Additionally, for all your burning money questions, check out Mic's credit, savings, career, investing and health care hubs for more information — that pays off.