What is Article 50? 3 things to know about the official start of Brexit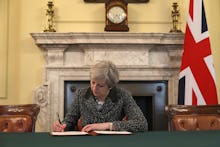 The Brexit is officially on. The U.K. triggered Article 50 of the Lisbon Treaty on Wednesday, which allows nations to leave the European Union, the political and economic body composed of 28 European member countries. 
The U.K.'s ambassador to the EU, Sir Tim Barrow, handed over a letter on Wednesday that officially kicks off Britain's divorce from the EU, the BBC reported on Wednesday. The news comes nine months after the June referendum vote to decide whether or not the U.K. should stay or leave.
British Prime Minister Theresa May spoke about the move on Wednesday, calling it "an historic moment from which there can be no turning back." 
But what, exactly, are the mechanisms behind the "exit" part of the Brexit? And why does the EU have such a clear exit plan for member nations?
1. No one's ever done it before.
Article 50, the five-paragraph clause that allows member nations to exit the European Union, became law as part of the Treaty of Lisbon in 2009, the BBC reported. Before that, there was no official path to leaving the EU. 
Article 50 has never been tested before, as no nations have left the EU.
2. It won't take effect right away.
The U.K. triggered Article 50 on Wednesday, but that doesn't mean it immediately goes into effect. According to a BBC timeline, EU members will establish negotiation guidelines and then begin face-to-face talks in May or June, working to negotiate trade deals, shared security and other policies between the EU and the U.K. Britain will also introduce it's "great repeal bill" to "convert EU law into domestic legislation," according to the BBC. 
Britain will officially leave the EU in March of 2019 unless negotiations are prolonged. Until then, it will remain a full member.
3. The author of Article 50 never expected it to be used.
Former Italian Premier Giuliano Amato authored Article 50 of the Treaty of Lisbon — and he told a group gathered in Rome in July that he never actually expected any of the EU's member nations to use it, Reuters reported.
"I wrote Article 50, so I know it well," Amato said. "My intention was that it should be a classic safety valve that was there, but never used. It is like having a fire extinguisher that should never have to be used. Instead, the fire happened." 
Amato added that he hopes Brexit negotiations will last long enough to leave room for the possibility that the decision could be reversed.