Urbanears releases first-ever connected speaker with a variety of colorways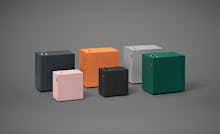 Since 2009, Urbanears has been the go-to for affordable, fashion-minded headphones and earbuds, offering various models in 13 colorways at prices as low as $29. Now, the Scandinavian-based collective is releasing their first line of connected speakers.
On March 30, Urbanears will officially unveil two models of connected speakers: the smaller Stammen ($350) and the larger Baggen ($450). Both models are named after areas in Stockholm, where the company is based, an Urbanears spokesperson confirmed via email.
According to the company, Stammen is great for small to mid-sized spaces, like living rooms, bedrooms and studio apartments while the Baggen is perfect for larger spaces like living rooms, patios and open-floorplan homes.
The cloth-covered design, like past products, is simple. The real selling point here: the colors, a relative rarity in the burgeoning connected speaker business. Both speakers come in six colorways: dirty pink, vinyl black, plant green, concrete grey, goldfish orange and indigo blue.
Both models are Wi-Fi compatible and give users the ability to play music from a variety of sources including Spotify Connect, Airplay or Chromecast built-in. Users also have the options to connect via Bluetooth or use the classic aux cord hook-up.
To learn more, check out the below video: