Anti-abortion activists behind Planned Parenthood videos charged with 15 felonies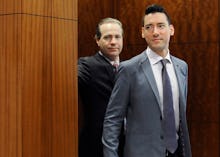 Conservatives have made much of the sting videos covertly filmed at Planned Parenthood between 2013 and 2015. The videos were heavily edited so that they appeared to show employees colluding to sell fetal tissue for profit. Tuesday marks the second time a legal investigation has found the filmmakers, rather than the health care provider, guilty of wrongdoing. 
The anti-abortion rights activists who made those videos — David Daleiden and Sandra Merritt — have now been charged with 15 felonies, one for each of the 14 people they filmed without consent and one for criminal conspiracy to invade privacy, according to the Associated Press. 
"As we have said from the beginning, and as more than a dozen different state investigations have made clear: Planned Parenthood has done nothing wrong, and the only people who broke the law are those behind the fraudulent tapes," Mary Alice Carter, interim vice president of communications for Planned Parenthood Federation of America, said in an emailed statement. 
"The California attorney general filing criminal charges sends a clear message that you cannot target women and you cannot target health care providers without consequences," she added. "We look forward to justice being served."
Daleiden, for his part, told the AP that the charges were "bogus" and that "the public knows the real criminals are Planned Parenthood and their business partners."
The public doesn't seem to think that at all: A Quinnipiac University poll from late January suggested that only 31% of voters supported cutting federal funding to Planned Parenthood, while 62% opposed trimming the health care provider from the government's budget. 
Tuesday's development represents the second time the filmmakers have been charged for the videos, for which they posed as representatives of a company called Biomax and smuggled cameras inside Planned Parenthood facilities. In January 2016, a grand jury convened to investigate the accusations levied in the videos, and instead of going after Planned Parenthood, turned around and indicted Daleiden and Merritt for felony falsification of government documents. A Texas judge eventually dropped that charge. 
Thanks to the videos, Planned Parenthood saw a spike in violence and harassment at its health centers. In November 2015, Robert Dear opened fire at a Planned Parenthood clinic in Colorado Springs, Colorado, killing three people ostensibly because he believed the organization was selling "baby parts." Which is to say, the videos have had very real and very grave consequences.
"The right to privacy is a cornerstone of California's constitution, and a right that is foundational in a free democratic society," California Attorney General Xavier Becerra, who brought charges against Daleiden and Merritt, reportedly said in statement Tuesday. "We will not tolerate the criminal recording of confidential conversations."