"Toxic tush" doctor, a transgender woman, was just sentenced to 10 years in a men's prison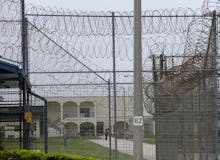 Oneal Morris, the Florida transgender woman who made national headlines as the "toxic tush" doctor for providing lethal butt enhancements, was sentenced on Tuesday to ten years in jail — in a men's prison.
Morris — who pleaded no contest to charges of manslaughter and practicing medicine without a license last month — used a mixture of Fix-a-Flat, cement, silicone, mineral oil and super glue to provide buttocks enhancements to women who could not afford traditional cosmetic surgery. 
The mixture caused the 2012 death of Shatarka Nuby, who allegedly paid Morris $2,000 for up to ten injections between 2007 and 2010.
Nuby's mother, Sherri Pitts, asked the Broward County judge for justice for her daughter, saying she was "saddened" by the whole situation.
"I'm saddened, and it's not for his time," Pitts said, referring to Morris. "I didn't wish any time for anyone. I'm just glad this day is over."
Morris was sentenced to a men's prison by a Broward County judge because Florida law does not currently make exceptions for transgender people. 
"This isn't Orange Is the New Black. This isn't going to be all fun and games for her," Kirstie Cohen, Morris' attorney, said. "She's at risk, and a very high risk, to be abused by not only inmates but guards."
According to the National Center for Transgender Equality, "Being transgender or gender non-conforming in an American jail or prison often means daily humiliation, physical and sexual abuse, and fear of reprisals for using the legal remedies to address underlying problems."
In 2015, a transgender woman serving a life sentence for murder in a Florida prison, sued to go by her name, Stacy Lorraine Naber, rather than her legal name, Justin Lee Naber, on the grounds that it amounted to cruel and unusual punishment. She was found dead in her cell in 2016 after apparently hanging herself.