The US women's hockey team ends boycott over gender wage gap with new contract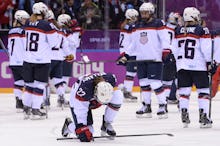 With just days to spare, the United States women's hockey team has struck a four-year deal with USA Hockey, bringing an end to their boycott of the Women's World Championship, which begins on March 31.
According to Yahoo News, the team has been in talks with USA Hockey for 18 months, hoping to negotiate not just a higher wage but also "equitable support" with regards to "youth team development, equipment, travel expenses, hotel accommodations, meals, staffing, transportation, marketing and publicity." 
Earlier this month, team captain Megan Duggan argued that USA Hockey had treated women and girls in the league as an "afterthought," all while shelling out some $3.5 million for boys' programs.
Before the negotiation, Duggan had been making just $22,500 a year — a salary that had actually placed her among the highest-paid players in the National Women's Hockey League. 
While USA Hockey hasn't released the specific terms of the new agreement, Craig Custance, a senior writer at ESPN, tweeted on Tuesday that the women's team will see "major increases in compensation, travel and insurance benefits and a committee to give women more of a voice in USA Hockey." 
"Today reflects everyone coming together and compromising in order to reach a resolution for the betterment of the sport," Jim Smith, president of USA Hockey, said in a Tuesday joint press release. "We'll now move forward together knowing we'll look back on this day as one of the most positive in the history of USA Hockey."
Duggan also struck a hopeful note in the press release, stating that she was proud of herself and her team for standing up for what was right. Now they can keep their eye on the prize: taking home another world championship trophy.
"It's time now to turn the page," Duggan said. "We can't wait to play in the World Championship later this week in front of our fans as we try and defend our gold medal."