Man in Minneapolis bites, stabs Somali man, then screams "I hate Muslims!" after arrest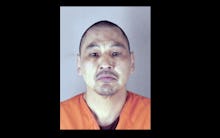 A 47-year-old man has been charged with assault after police said he bit and stabbed a Somali man in Minneapolis, Minnesota.
Kelvin Porter told officers he attempted to kill a Muslim, the Associated Press reported. Police said that surveillance footage taken on Friday show Porter aggressively confronting the victim on a sidewalk in the Cedar-Riverside neighborhood of Minneapolis. The victim raised his fists when Porter stabbed him multiple times and bit him on the face. Porter was interrupted when another man threw a trashcan at the two. The victim then broke free from Porter's grip and ran away.
According to local CBS affiliate, the victim suffered wounds on his hands, face, abdomen and left shoulder. He was treated for his injuries immediately after the attack. 
When arrested, Porter told police he "tried to stab the Somalian in the neck." He also screamed: "I hate Muslims!" Porter is charged with second-degree assault with a dangerous weapon, according to Hennepin County court documents. He could face up to seven years in prison. Porter may also have to pay a $14,000 fine. His bail is set to $50,000.
But according to AP, Porter could have an increased penalty if he was charged with a hate-motivated crime. Minnesota prosecutors said that decision wouldn't be made until later in the court process.
The Council of American Islamic Relation's Minnesota chapter is calling for state and federal hate crime charges to be placed on Porter.
"The suspect's own statements, as related to police, would indicate an apparent bias motive that should result in additional charges or enhanced sentencing if he is found guilty," CAIR-MN executive director Jaylani Hussein said in a statement.
The attack comes on the heels of the killing of 66-year-old Timothy Caughman. White supremacist James Harris Jackson, 28, traveled to New York City from Baltimore and killed Caughman, a black man, stabbing him to death with an 18-inch blade on March 20. Jackson said he had wanted to kill "a young thug" or "a successful older black man with blonds ... people you see in Midtown. These younger guys that put white girls on the wrong path."
Jackson was arrested and charged with second-degree murder as a hate crime.