What is 16101 Ventura Blvd? Blac Chyna blasts her ex Tyga on Snapchat.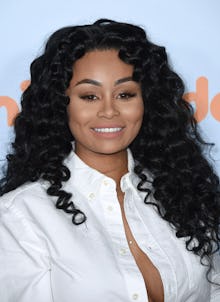 Blac Chyna called out her ex Tyga using many choice words on Snapchat Wednesday. The reality TV star is apparently upset that the rapper, who is the father of their son King Cairo, has allegedly not paid child support. 
She aired her grievances with Tyga late last night and told him to come find her at "16101 Venture Blvd 215." Lashed, her eyelash and makeup salon in Encino, California, is located at 16101 Ventura Blvd, Suite 215, which suggests that is the location Chyna meant. Below is an excerpt of a series of Snapchat messages Chyna posted about Tyga: 
No child support! Nigga is like hoes! So imma treat u like that! Not paying Jenny! Wow. Stop running to ur money! Telling my business about King! I bet any money ! I got more money then ur account Tyga, Michael!!! So go tell Kylie [Jenner] and Rob [Kardashian]! About our son Account! Cause that's the only reason I'm contacting your fucking ass! But u wanna make it like I want u lol! Tyga ur a bitch! And u can go get ur mom, or ur bitch! Lol!!! Or ur nigga u fuckin or Terrell or heather! On wait 16101 venture blvd 215.
Before having a baby and breaking off an engagement with Rob Kardashian, Blac Chyna had been engaged to Tyga. The rapper reportedly called off their wedding, TMZ reported in August 2014. Later in the year, rumors began spreading that Tyga was dating the youngest member of the Kardashian-Jenner sisterhood, Kylie Jenner.
Mic has ongoing Blac Chyna coverage. Please follow our main Blac Chyna hub here.