How did 'Bones' end? This is what happened in the series finale.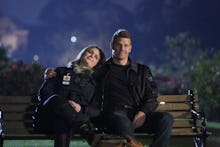 After 12 long seasons on Fox, Bones came to an end on Tuesday night. 
In episode 12, the series finale of the hit show, aptly titled "The Final Chapter: The End in the End," gave fans a satisfying conclusion. 
After the bomb in the Jeffersonian is set off by Mark Kovac, Bones, Booth, Hodgins and Angela are left inside. While it starts off dark, the finale ends just how fans would have wanted it to. 
After the dust settles, all of the characters begin to piece the future of their lives together. Cam and Arastoo are starting their own family, as they're anticipating the arrival of their three adopted children in the next few months.  
Angela and Hodgins decide to come together and write a children's book with characters based on our beloved Bones family. Thankfully, Angela manages to escape the explosion with no harm done to her pregnancy. Hodgins is given a job promotion as the "king of the lab."
What about Booth and Bones? Well, they end up together, of course. After the explosion in the lab damages Brennan's thought process, she works on dealing with the fact that she may never be the same again. Booth tells her he loves her and, in classic happy ending style, she returns to her fully functioning self.  
Mic has ongoing TV coverage. Please follow our main TV hub here.