How Republicans in Congress and Donald Trump are rolling back your internet privacy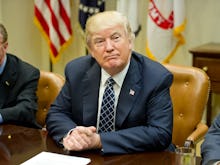 Assuming President Donald Trump signs the legislation, companies like Verizon and Comcast will soon be able to share or sell what you do online — without your consent. In a party line vote, the House rolled back protections, instituted by former President Barack Obama in 2016, that prohibited internet service providers from selling customers' web histories. The Senate voted last week to kill the rules, but no Democrat supported the resolution in either chamber.
As the Verge explains, Republicans argued there should be no distinction between ISPs and internet-based companies like Google and Facebook. ISPs should be free to profit off consumer data, the argument goes, just as Facebook tracks user information on its website. But there is a major distinction: Google, Facebook and similar websites only watch what you are doing on their platform or websites connected to it. ISPs, like Comcast, can track almost anything you do online when you're connected using their service.
"ISPs like Comcast essentially create digital roads, while companies like Google create hugely innovative businesses along those roads," the Verge wrote. "There's good reason to treat the two differently."
The resolution now awaits Trump's signature.
This is Mic's daily read on Donald Trump's America. Welcome to the political newsletter that expects to be spied on by Comcast. 
Highlights: 
•  Today: Pending presidential signature, basically everything you do online can soon be sold.
•  More: The president followed through on his promise to kill Obama-era climate regulations.
•  Even more: It's looking increasingly like Republicans will need to employ the nuclear option to put Neil Gorsuch on the Supreme Court.
•  Breaking Wednesday morning: Shots were fired near the Capitol in Washington after a driver rammed into a police car. 
•  Trump's agenda today: Attending a women's empowerment panel. Holding a listening session on drug and opioid abuse.
Trump's pro-coal executive order
The move was long promised, but that does not make it sting any less for environmentalists. After eight years of policies that would reduce America's contributions to climate change, Trump rolled back Obama's signature regulation focused on reducing CO2 emissions, the Clean Power Plan. Fossil fuel-burning power plants, particularly coal-fired plants, will no longer have to limit carbon emissions, and federal agencies will not have to consider the impacts of climate change in their decision-making. Obama's plan would have cut carbon dioxide emissions by 32% from 2005 levels by 2030.
Trump and Scott Pruitt, the EPA administrator who repeatedly sued the federal government over Obama's plan, say rolling back the rules will help revive America's flagging coal industry. They also touted the executive order Trump signed as focused on "energy independence." But the U.S., which does not import coal and produces more than three-quarters of the oil Americans use, is already largely energy independent.
As Mic's Andrew Joyce noted, it's not stifling regulations that have led to the industry's decline, but competition from other fossil fuel sources, particularly cheap natural gas, that have made extracting and burning coal less profitable.
Devin Nunes is not going anywhere. Neither is the Russia narrative. 
The Republican chairman of the House Intelligence Committee will not step down or recuse himself from his committee's investigation into Russian interference in the 2016 election. House Speaker Paul Ryan and other House Republicans said Tuesday they were supportive of Devin Nunes' (R-Calif.) continued leadership of the probe. That's despite the fact that Nunes has taken a meeting with the president, briefed the press before his committee, canceled this week's committee hearings and raised suspicions he is coordinating with the White House. Democrats began calling for Nunes' recusal last week.
With the House committee's work at a standstill, eyes have turned to the Senate Intelligence Committee. The quieter, more bipartisan investigation has access to more intelligence records. Sen. Mark Warner, the ranking Democrat on the committee, said Tuesday he wants former acting Attorney General Sally Yates to testify about alleged ties between the president and Russia. Yates' testimony is important because she informed the White House that then-National Security Advisor Michael Flynn had spoken to the Russian ambassador before Trump's inauguration. Yates was set to testify in front of the House committee, but Nunes canceled the hearing.
Now more than ever, it seems like an independent inquiry into Russia is necessary. But setting up that investigation would not be easy. As NBC explains, Republicans, Democrats and the White House would have to be on board — with Trump having to sign legislation to form an inquiry that could investigate the presidency. Funding for the inquiry would also have to be allocated.
Meanwhile, former Trump campaign chairman Paul Manafort is again under scrutiny for purchasing homes in New York allegedly with cash from Russian oligarchs and possibly laundering money through a bank in Cyprus. Yes, you read that right.
Is health care coming back?
Less than a week ago, the president and Ryan said Republicans were moving on from health care. Not so fast: The GOP is reportedly exploring "Plan B" in the House, with Trump adviser Steve Bannon quietly negotiating with House Republicans to attempt another health care plan.
A note on Trump's repeated assertions that the Affordable Care Act is falling apart: He could very well speed up the process. Politico reports that at any time, the president would be free to remove the federal subsidies on health insurance plans, making coverage far too expensive for millions of people.
News and insight you cannot miss:
•  The United Kingdom has triggered Brexit. The process of leaving the European Union will take two years. But nine months after voters said they wanted to leave the EU, Parliament has delivered a letter to Brussels announcing the U.K. will officially be leaving. Here's three things to know about the official start of Brexit.
•  Nine Democrats came out against Supreme Court nominee Neil Gorsuch on Tuesday. That means the judge needs all the remaining Democrats to support him, or he can only make it to the bench via the nuclear option. (Politico)
•  There's a robot that automatically prints, then burns, every Trump tweet. (Mic)
•  Sen. Orrin Hatch says he would step aside — if Mitt Romney runs for his Utah Senate seat. (Salt Lake Tribune)
•  Rep. Maxine Waters' (D-Calif.) response to Fox News' Bill O'Reilly's racist and sexist joke? "I am a strong black woman, and I cannot be intimidated." (Mic)
•  A police union that backed Trump now says he risks safety with cuts to sanctuary cities. (Mic)