Donald Trump now finds humor in his "grab them by the pussy" video scandal, report says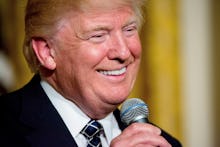 If you thought President Donald Trump felt remorse about the leaked tape that showed him bragging about sexually assaulting women, think again.
An Associated Press report noted Trump has been joking around about the incident that nearly derailed his campaign when a 2005 video surfaced bearing audio of Trump bragging he could "do anything" to women, including "grab them by the pussy." 
"For laughs, Trump will sometimes recount a tense exchange with [chief of staff Reince] Priebus at one of the campaign's lowest moments: The release of a video in which Trump is heard making predatory comments about women," the report said.
After the tape dropped, Priebus reportedly told Trump during an emergency he should drop out of the race or else risk down-ballot Republican candidates' chances in November, according to the AP report. 
However the tape only momentarily dinged Trump's polling numbers, and he went on to win the Electoral College while losing the popular vote in November.
Trump still enjoys ribbing Priebus about being wrong about the tape's impact on his presidential hopes.